I love going outside on a warm spring day in the gentle rain. Weedlings, even the tap-rooted kind, can be yanked with comparatable ease but best of all, it is the ideal weather for transplanting. No wilting sun or gusty wind during these kind of rainfalls just a root saving soaking.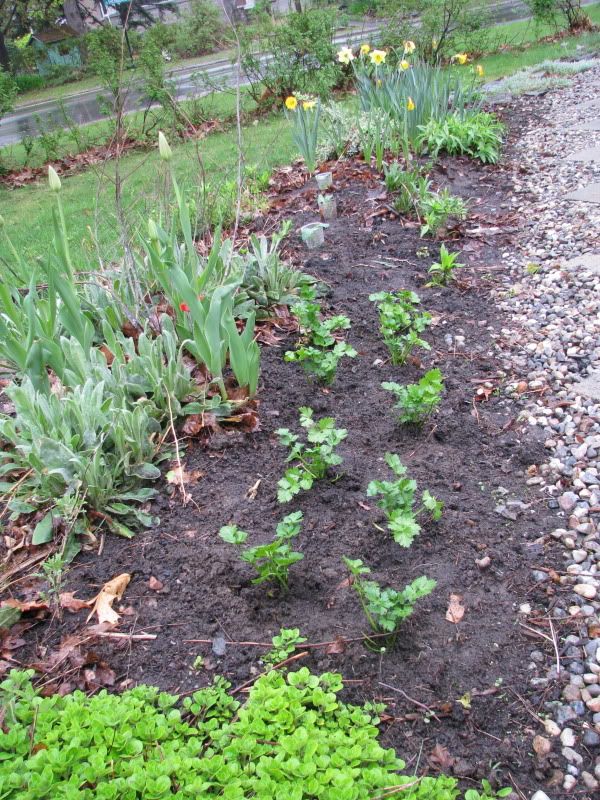 Celeriac Seedlings tucked into the front bed along with leaf broccoli and some very small chard seedlings.
So today, I took the opportunity to get soaked to the bone and work on my own garden for a change.
My peppers potted along the drive. If cold weather strikes, they can be lugged to the garage for the night. I've also had to rip out some dismal lavender replaced with Seakale - a perennial, edible cabbage relative. These were purchased but I'm happy to announce that the two of my Lily White Seakale that I seeded last year survived the winter. They certainly were shy to raise their heads. I thought they were gonners. I have also seeded some more from seed friends in Europe.
I'm hardly finished, as there is a lush carpet of weedlings/seedlings to sort through looking for the treasures of self sown edibles and beauties, the garden edges to re-cut and mulching to be done in preparation for the dry days of summer.
But not today, I'm now inside with a warm cup of tea.