I had some aging peas left over from last year and decided to test their germination with an eye on eating them.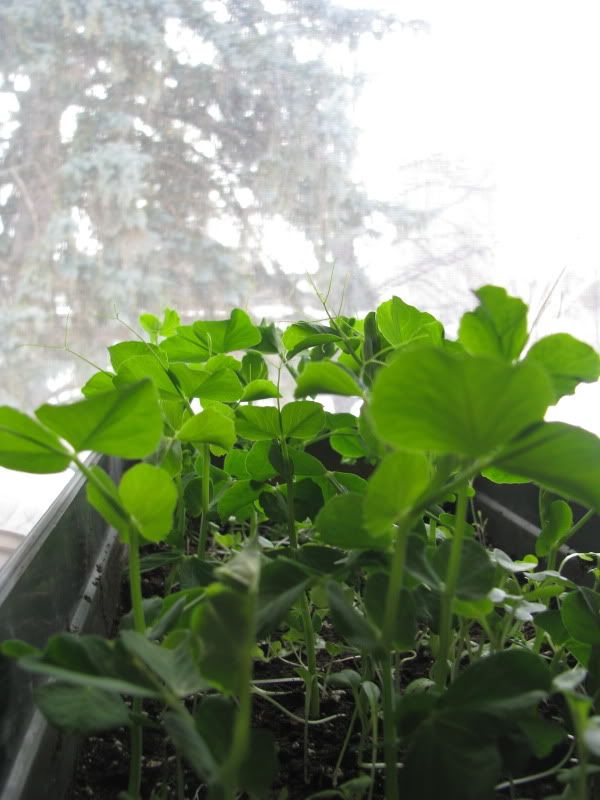 Did I get descent germination: Check
Tasty Pea Shoots for my efforts: Double Check
Pea shoots and tendrils are a trendy addition to salads and stirfries. I've noticed that most recommended varieties are those with edible pods which may be because the shoots are less fiborous or sugary. Some common recommendations include Oregan Sugar Pod and Cascadia. If you are very interested in the tendrils then hypertendril varieties such as Sugar Lace will provide lots of those.
I just used a common shelling pea: Green Arrow. It took two weeks to grow these babies to usable size in a south facing window.
***
Article on Pea Shoots from the
Cooperative Extension Washington State University
Daily Gardener
has a nice pictorial on growing snow pea shoots
If you are interested in peas, then check out
Daughter of the Soil
, a blog with the same obsession. Scroll down this post for a look at a hypertendril pea shoot.
Agriahaiti - Ontario Asian Seed source, sells a variety for pea shoots. Interestingly, they say it has no or few tendrils. They are currently out of stock of
Dou Miao 1