Given the drought growing conditions this year, I wasn't sure how the sweets would. They were started from my own overwintered tubers, supplemented by a few slips from
Mapple Farms
, and set out near the end of May mostly in beds pre-warmed by plastic mulch. However I also planted some nearby in an uncovered raised bed so I could see if there were any major differences.
The first thing I noticed was that the sweets were rooting where they touched the ground rather like squash or tomatoes might. This would allow them to mine more water so would yields be higher on the bare dirt?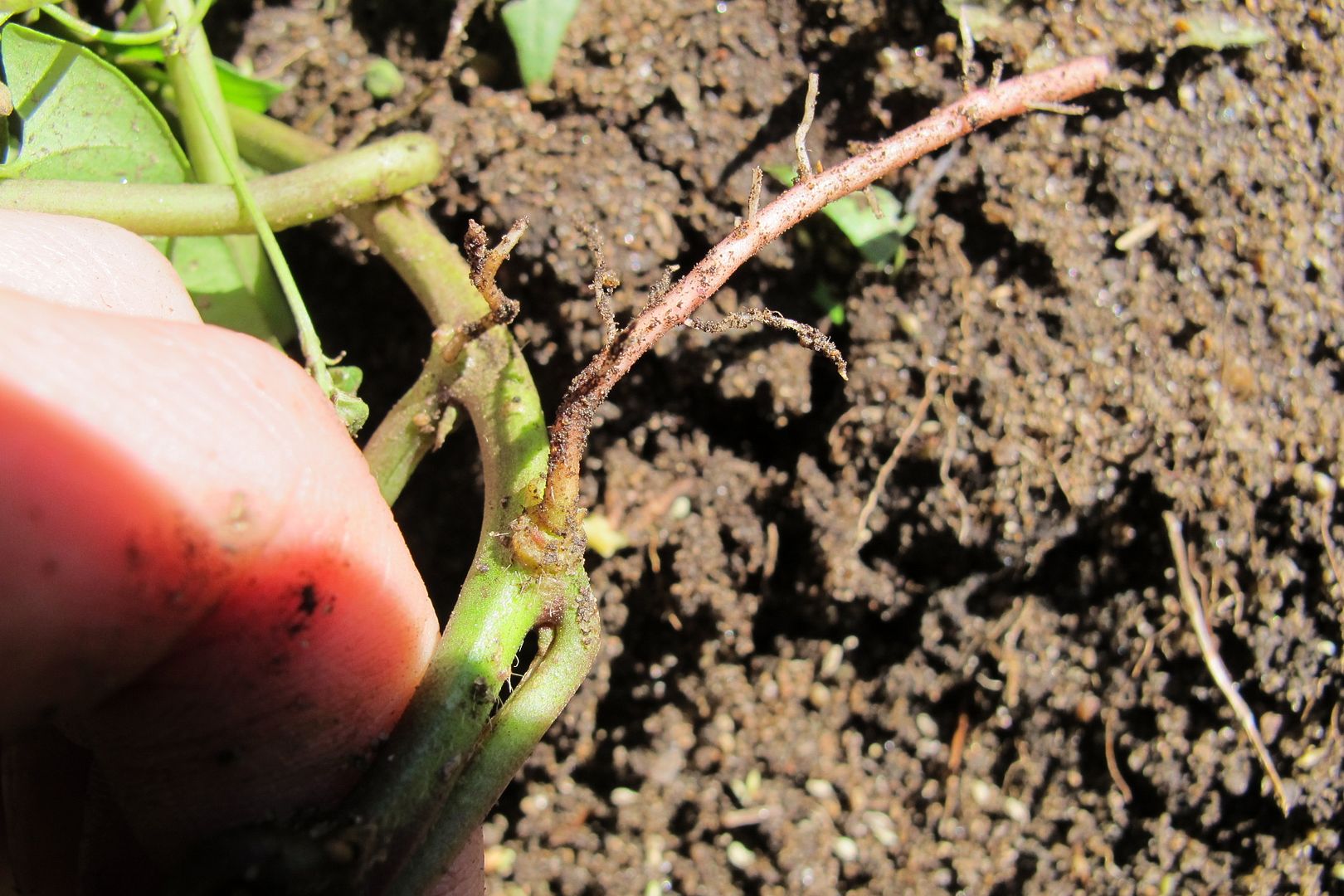 Sweet potatoes root easily along the stem making this an easy way to propagate them if you don't have tubers available or want to increase some long slips (sweet potato plant babies)
The first plant had an interesting collection of corkscrewed tubers directly under the plant. I have heard of this happening in pots or in pot like conditions such as putting a transplant that had been grown in friable soil in a hole of clay soil but this soil is pretty sandy so not sure. This variety seems to be prone. You may be wondering which variety and I promise to tell you. Promise once I check.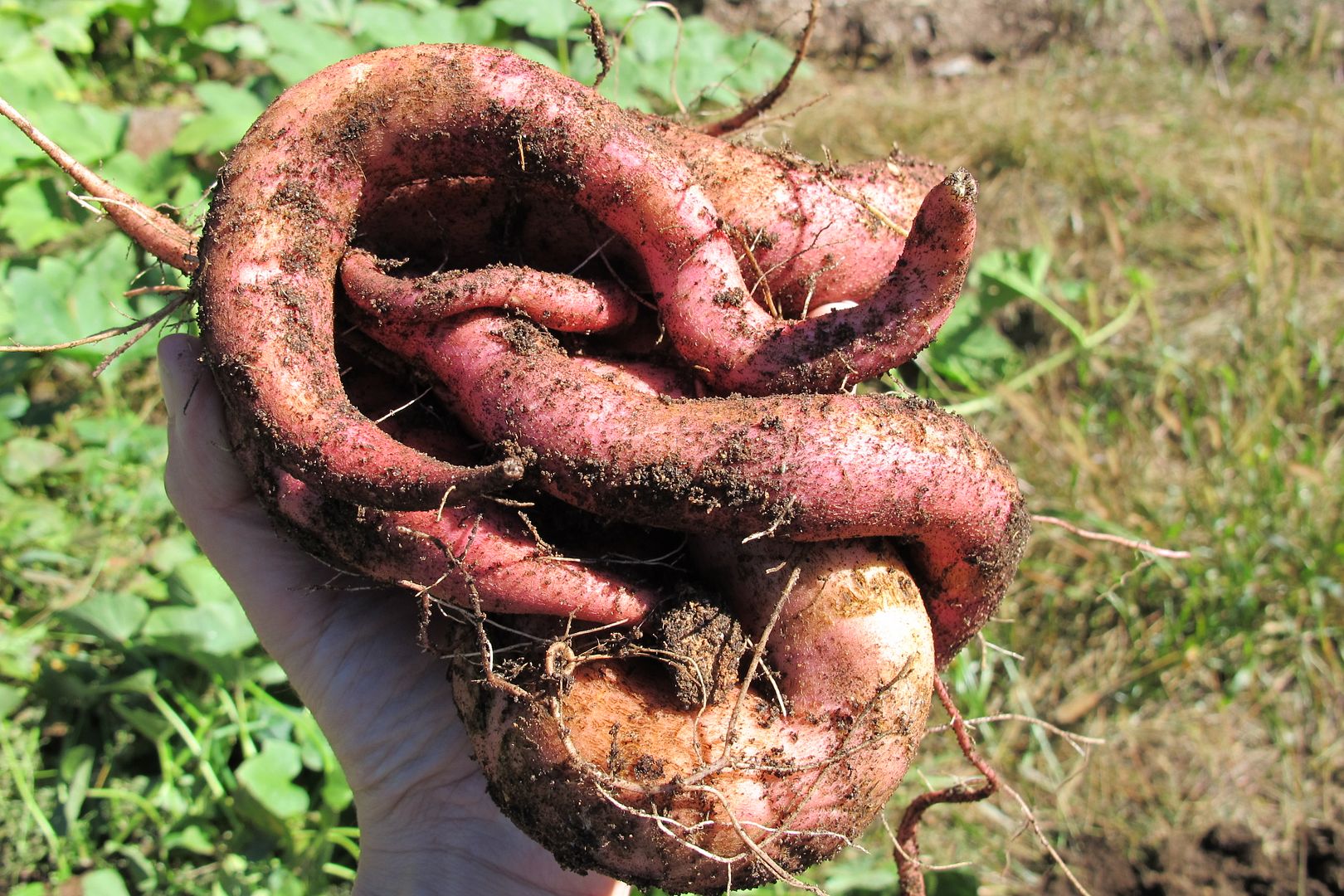 Not a bad yield but not bakers. Certainly tricky to clean! These will make a lovely mash or stew.
Next plant was Georgia Jet with adequate yield. I'm beginning to think my concerns of poor growth, given that after establishment they were watered maybe twice or three times during the two plus month drought, were well founded.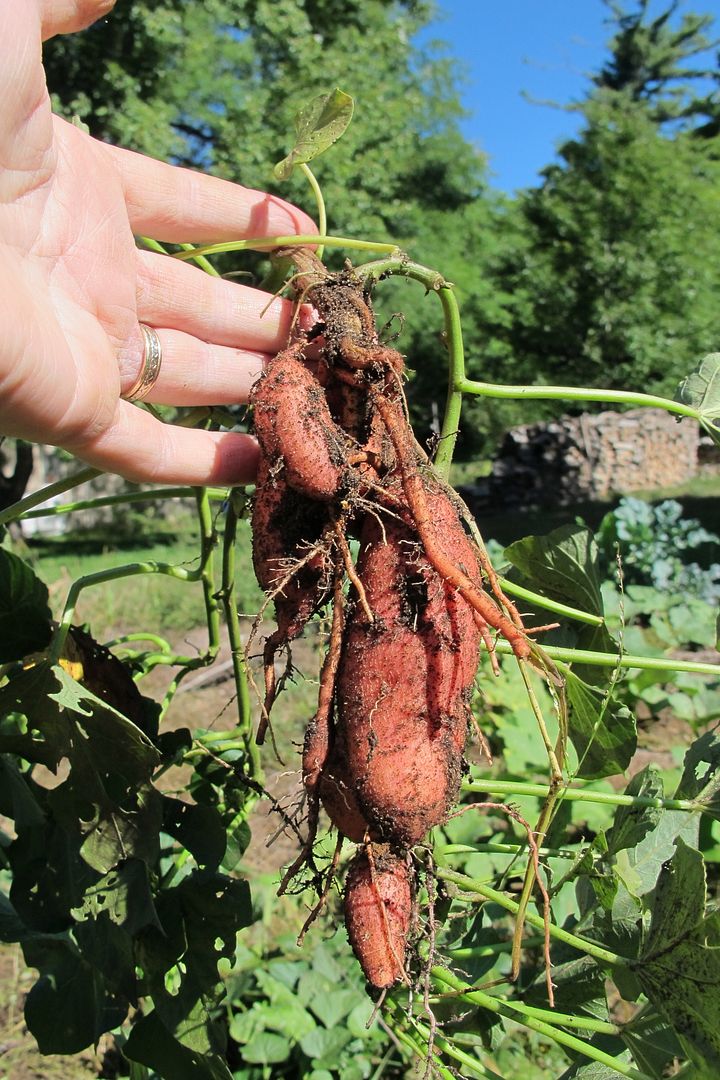 Small plant = smaller tuber development.
After harvesting many more sweets of similar quality in the bare earth bed, I moved on to those planted in plastic mulch. I planted on roughly two foot centres. The clear plastic is stretched and secured on raised beds ad sweets planted into cut Xs with dirt securing the X down.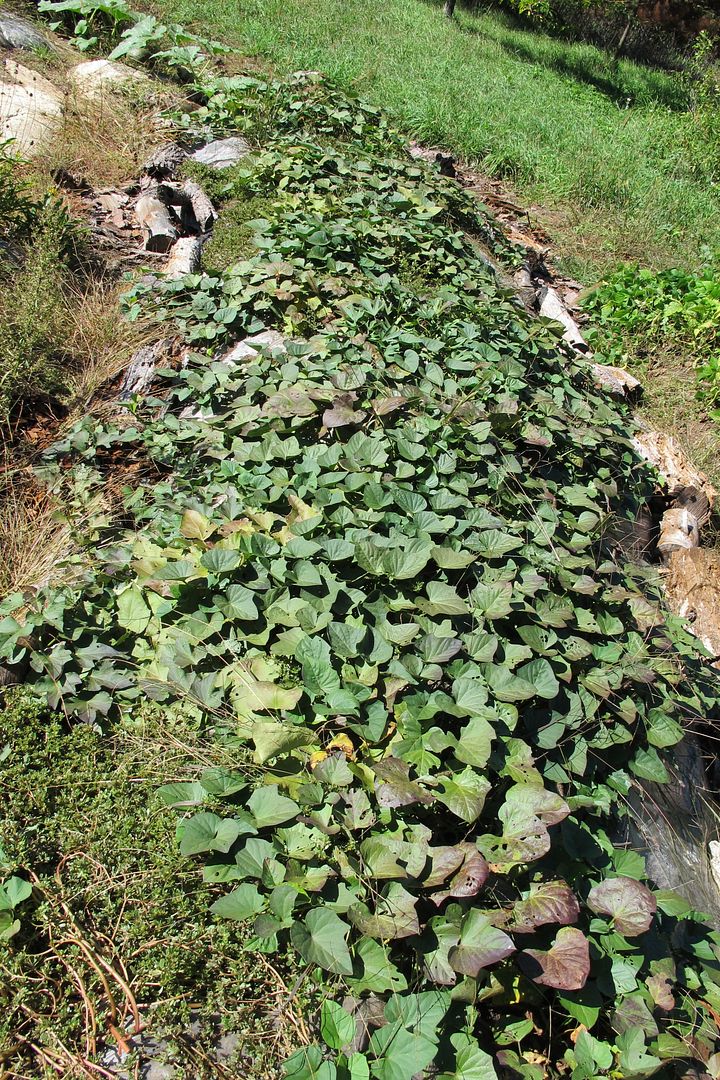 Slightly weedy sweet potato bed in south facing circular sun trap garden.
A couple of the plants were keen to flower in this bed interesting if you had a longer season and wanted to do some breeding.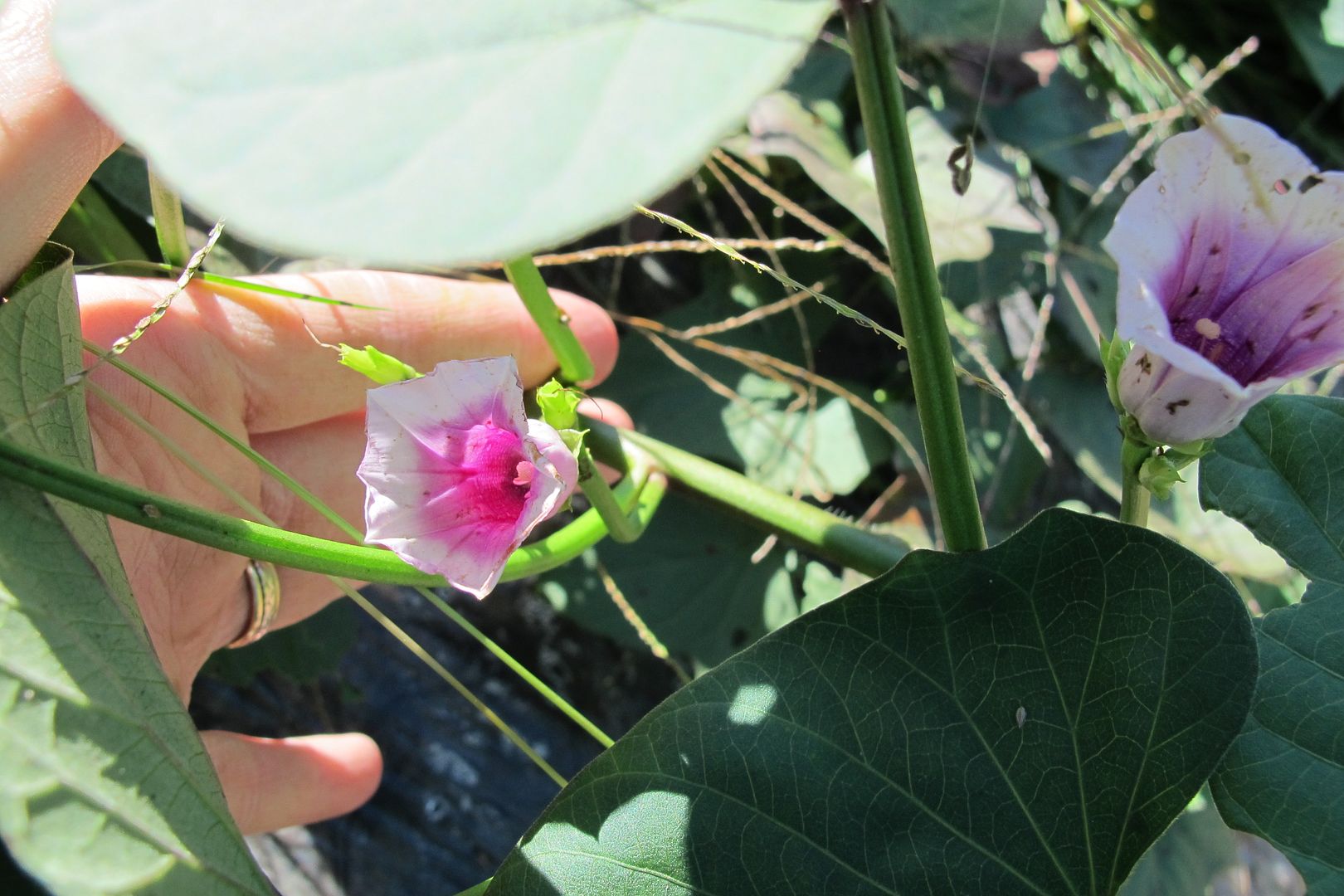 Some vines had many buds on them!
I start to peel back the plastic to get to the plants. The plants are certainly heftier and so is the harvest!
That's a nice roaster.
..and it continues!
That's a nice yield: two large roasters and several medium.
This plant had three larger and several medium. I'm thinking these sweets are living up to their reputation as being drought tolerant. It's possible that the clear plastic not only warmed the soil but retained moisture. By the way though I use plastic for season extension in polytunnels and in this application, I would like to give up the habit as much as possible hence the bare dirt experiment. Perhaps in a normal moisture year growth would be similar. Next year we'll try organic mulch and see what happens. Pot culture is another option but I tend not to do too much as I find it negatively compromises lateral root growth and therefore total growth in plants.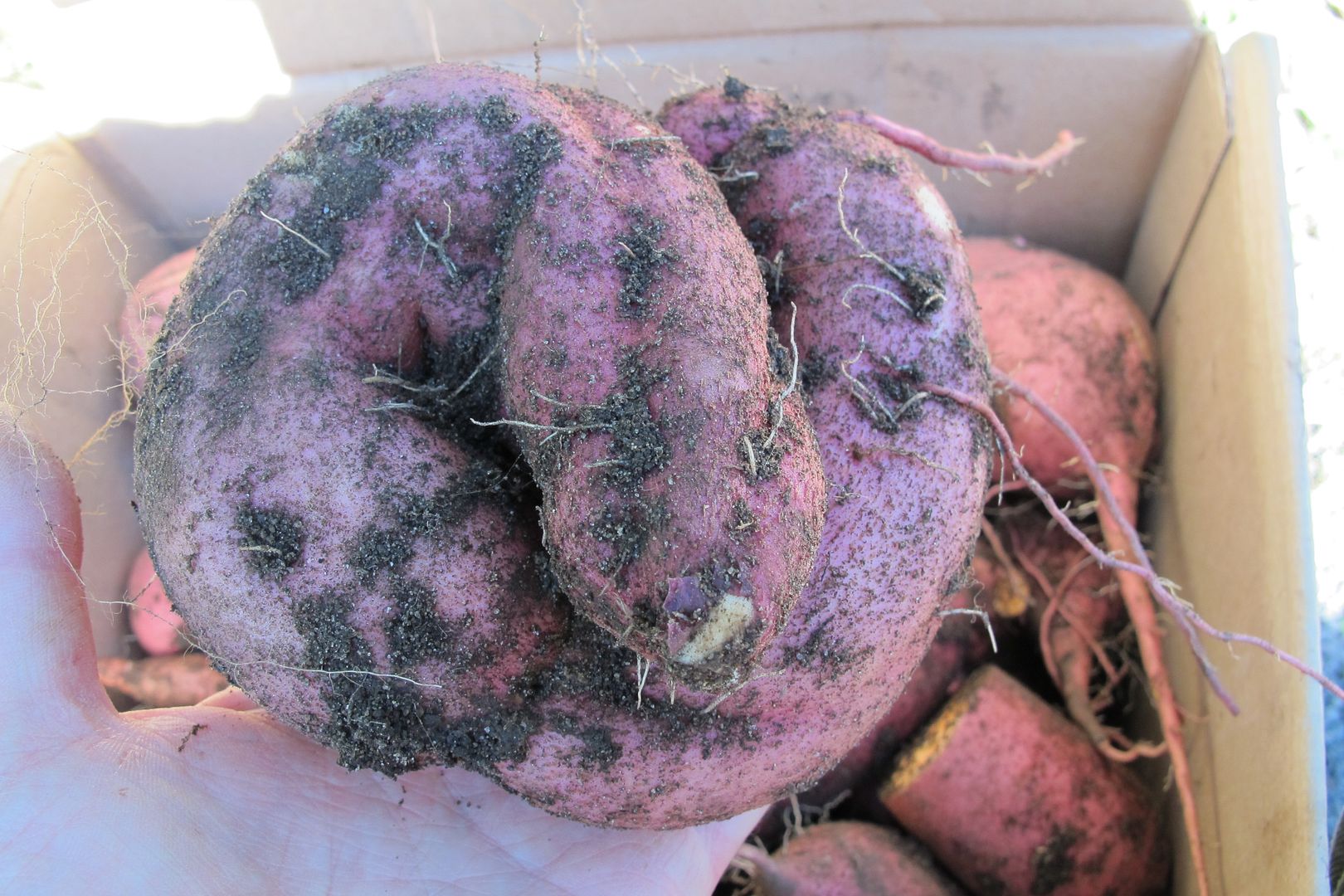 Um what is this sweet trying to say to me?
Most productive were predictably Georgia Jet - orange skin and flesh - and Japanese Yam - reddish skin and creamy flesh. What I think is Beauregard followed with odd shapes. Some were straight and if they had plumped up, they could be huge and trailing behind was Superior with hardly any tuber formation. I still have two varieties from other gardens to unearth so I will let you know.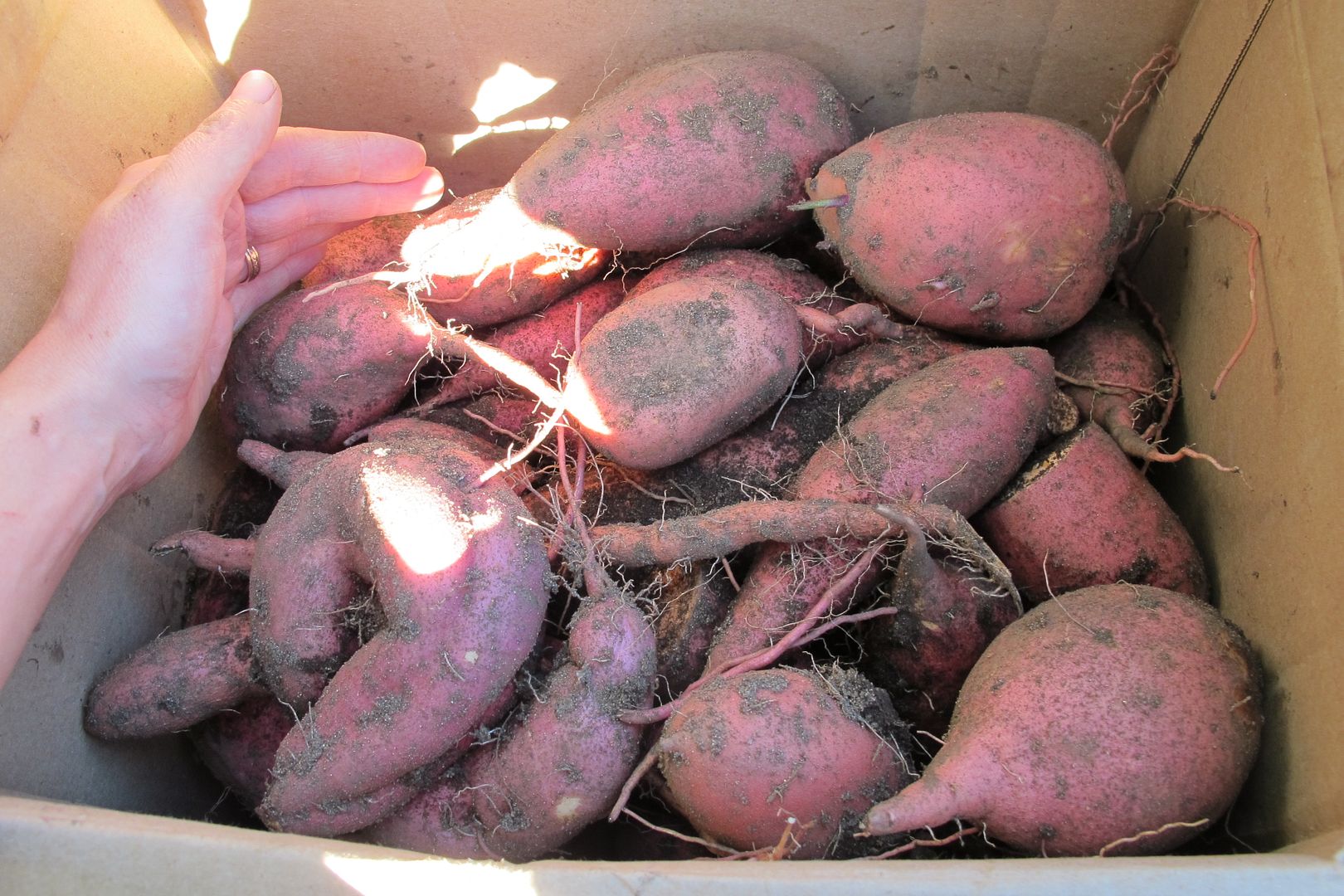 The haul - A wine box full of sweets.
Now I need to cure them at high heat and humidity. There are better ways to do this but letting them hang out in the sun in a plastic bag worked for me last year.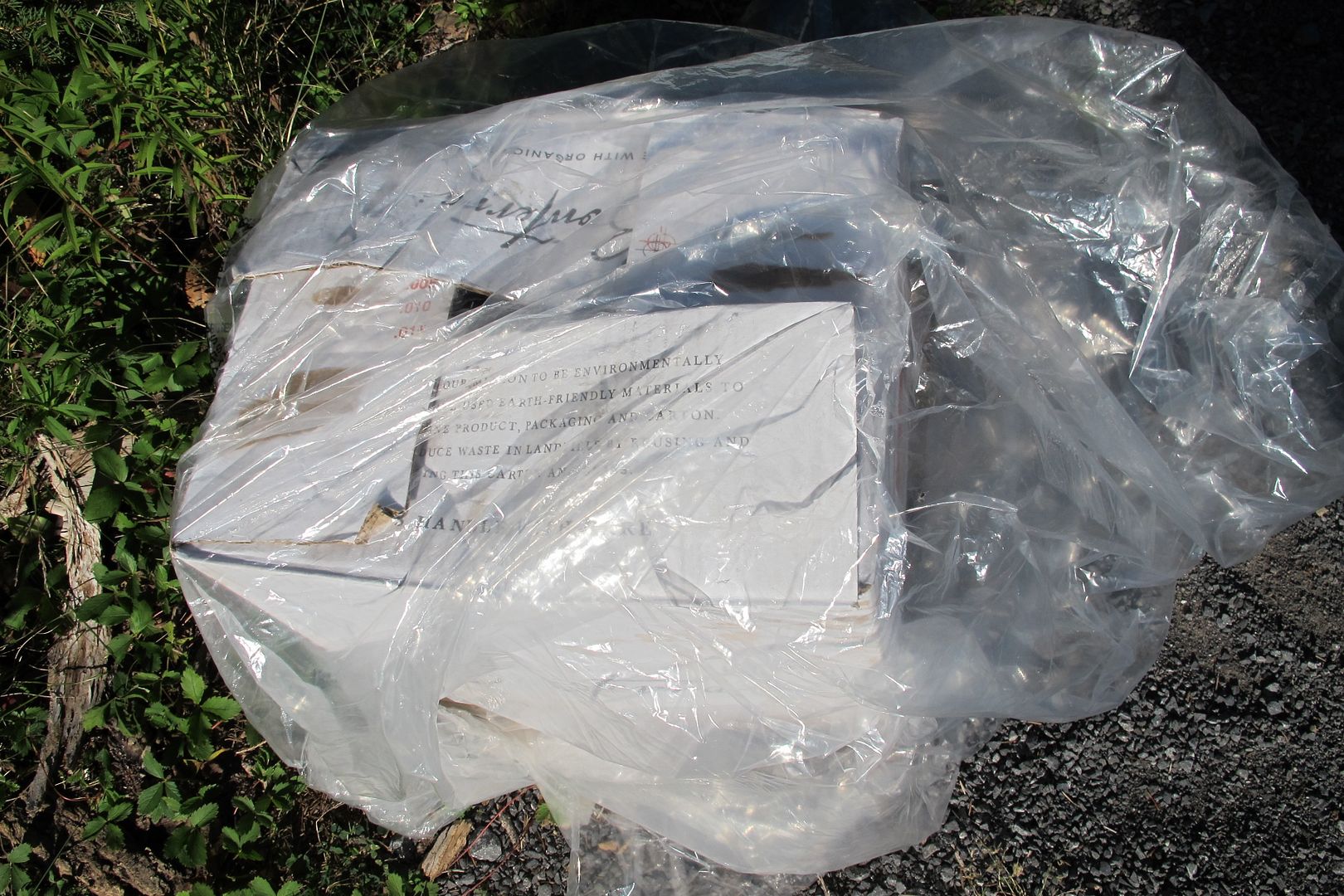 My ad hoc curing quarters. Packed neatly in the wine box and then placed loosely in a plastic bag. Their proximity should keep the moisture high along with the plastic. They need to breath a bit hence the loosely wrapped part.
P.S.: I still have some sweet potatoes from last year. After harvesting the stragglers in the front, I'll hopefully have a comparison for you between Fraiser White last year and this year. They really do keep a long time if properly cured and stored.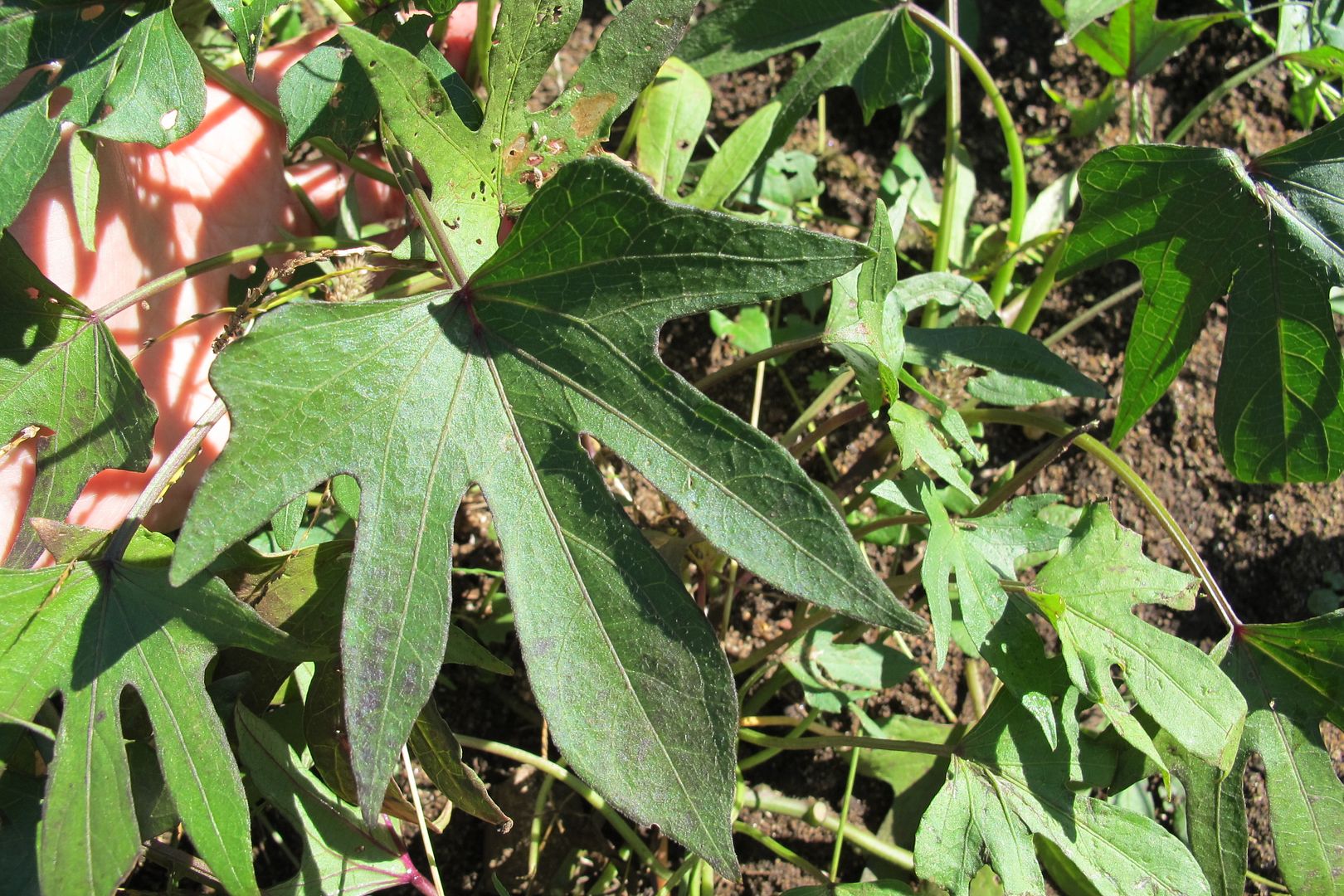 Striking decorative foliage but poor tuber formation for me. Said to do well in Niagara region.
Last year's harvest
Ken Allan's Sweet Potatoes for the Home Garden is available in Ottawa Public Library but also worth the purchase price for the serious enthusiast (Mapple Farms sells it too as do others).