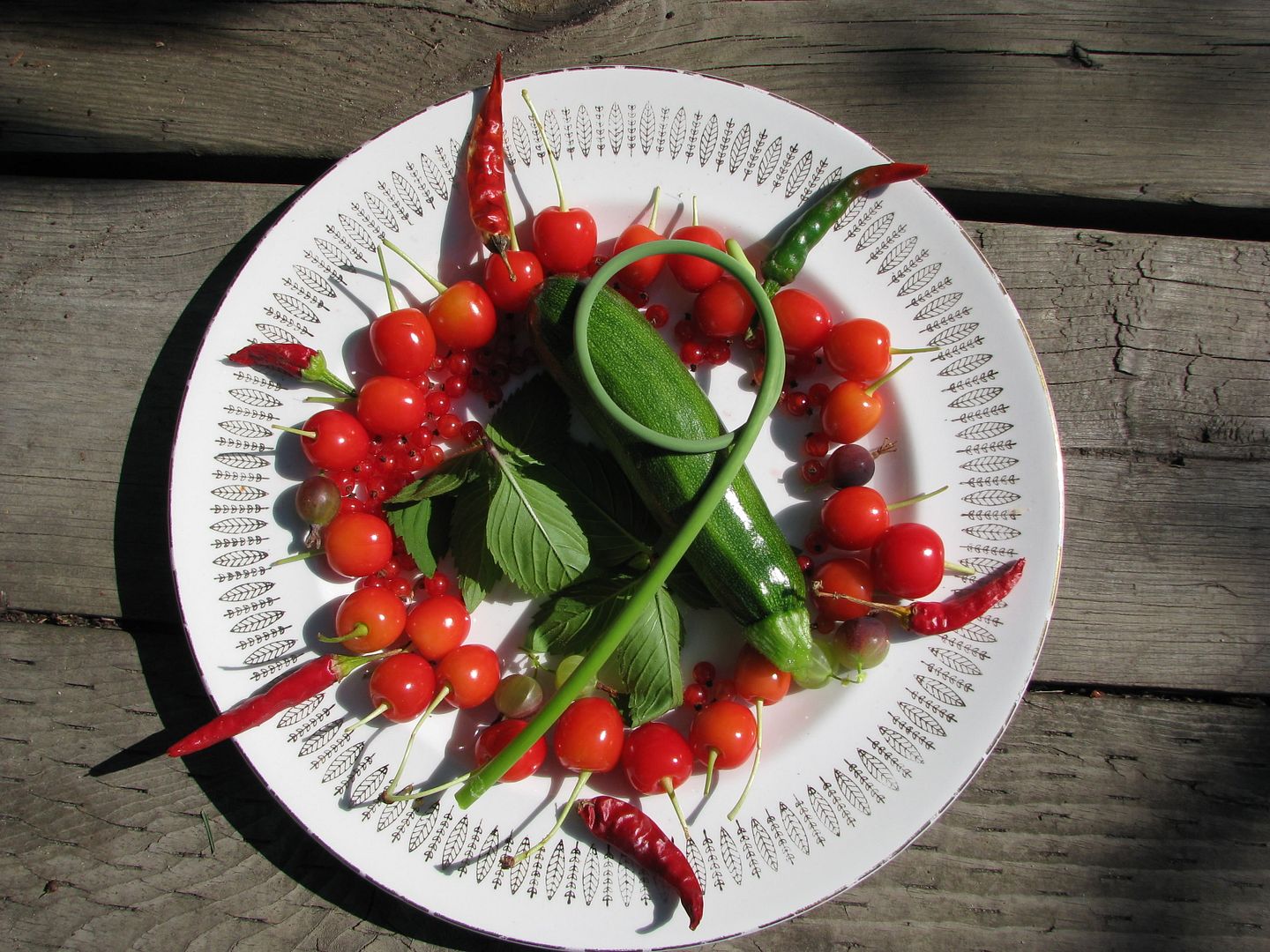 This harvest sun medley includes Evans sweet/sour cherry, Red Lake current, a garlic scape, the first zuke of the year, some mint, a couple gooseberries, a josta berry and Long Red cayenne pepper.
Happy longest day of the year everyone!
My harvest today consists of lots of berries which is surprising if you know that my children are nicknamed 'Worse than the Birds.' Thankfully, my hubby asked them not to eat ALL the cherries before I returned from my trip, anticipating that I'd like to capture the moment. The strawberries were not so lucky or perhaps I should say are adding their antioxidant goodness to my children's bodies. Currants and gooseberries are going as fast as they ripen. Actually, they go a smidgen before they are completely ripe which is perhaps why the birds miss out.
The Cayenne peppers are mostly from last winter's flowers but there were a couple fruits that started in early spring. This plant, I am happy to report, is 5 years old! It is not large but it keeps pumping out the peppers like a trooper.
Summer Solstice Sowing
Just as there is a tradition of wintersowing on the winter solstice, you can make do a little sowing on the longest day of the year too. It is a good time to start long season fall garden crops like Brussel Sprouts, fall cabbage, cauliflower and some peas. You may want to start your brassicas in pots or a nursery bed to avoid slug leveling. Some roots such as carrots and beets can also be started now for a sizeable crop to cellar. As for greens, kale, chard, even quick maturing leeks and other biennials can go in the ground now but I would avoid annuals that bolt in hot weather until later in the season. Some of you may be removing your spring greens or peas if you are not waiting for the seeds, so replace those crops with something that matures best in the cool weather of fall.
Unlike spring, the temperatures may be soaring and the ground drier, so make sure to keep the ground moist. Some tricks include, planting seeds in the shade of another plant such as in polycropping*, using a
germination board
, or planting in hollows or
furrows
. Consider a sunken seed bed and mulch well when the seedlings are up and growing.
The ideal time for planting your fall garden depends on the plant with some needing to go in the ground around the beginning of June and some not until near the end of August. Take the amount of time that the crop generally takes to mature in your garden and add a couple weeks to compensate for lowered amount of sun and cooler weather. Then remember that every year is a series of weather surprises so don't take schedules too seriously except as I say when it comes to the longest maturing crops and bolting annuals. Experiment, have fun, sow seeds.
* There weren't any straight forward links to the definition of polycropping but it is quite simply the opposite of moncropping - ie, planting more than one crop together. For example, I have read of interplanting beets, beans and corn - a variation on the three sisters. The plants are given adequate space that they can all thrive with beans climbing the corn and the slightly shaded beets poking out between.
***
For more info on when I usually plant vegetables
Mother Earth News on Grow Your Best Fall Garden
Animation of Summer Solstice