I have been harvesting greens but few roots crops.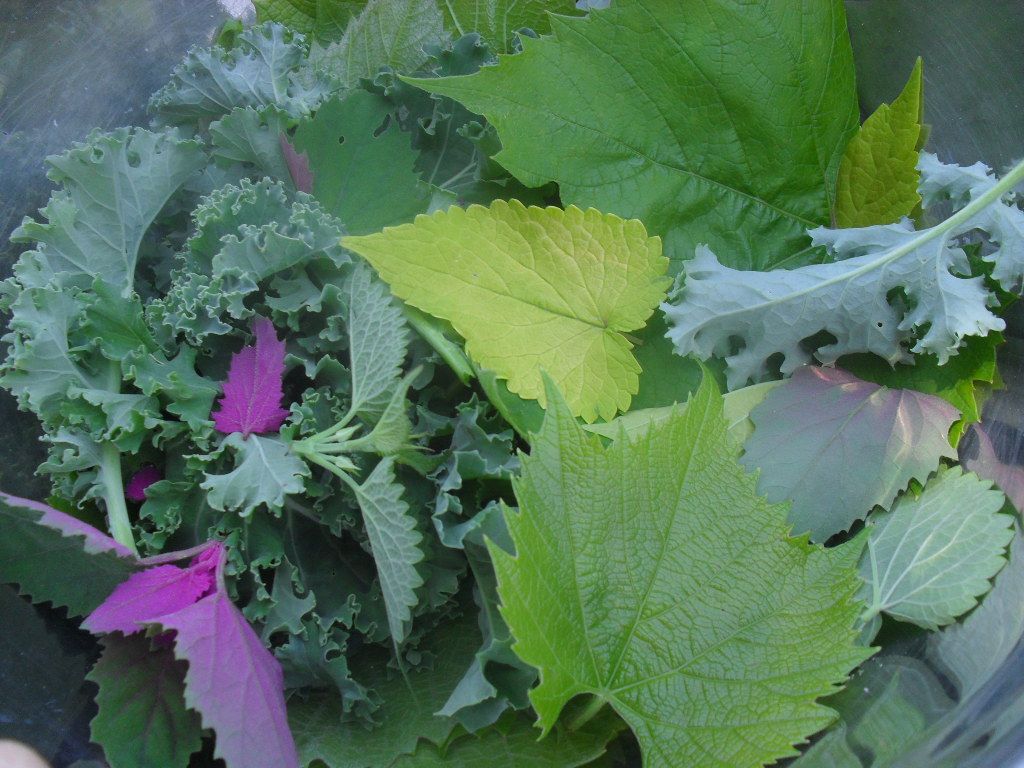 Yummy green, gold and pink stuff in bowl
In fact this year the bugs decided that they weren't feeling generous with my seedlings and have mowed down parsnip, marigolds and various goosefoot relatives. Carrots have been shy to germinate too. Still, I can't complain too much as I have been able to eat. As it's been a while since I've posted and we are into our second growing season here, I figured it was time for a garden tour. My camera is still broken and may never be fixed (blame throw-away culture) but my daughter lent me hers. It doesn't take closeups, doesn't like high light and has a smudge across its lens but heck it records images in digital form.
The Greenhouse Gardens
Small greenhouse used for storage now.
The small greenhouse was made (by previous owners) with reclaimed windows that contain lead paint so nothing edible is planted nearby. Instead a fire pit and a few decorative/wild type beds ring it. When we moved in the fall of 2010, it was a tilled, fenced annual vegetable patch.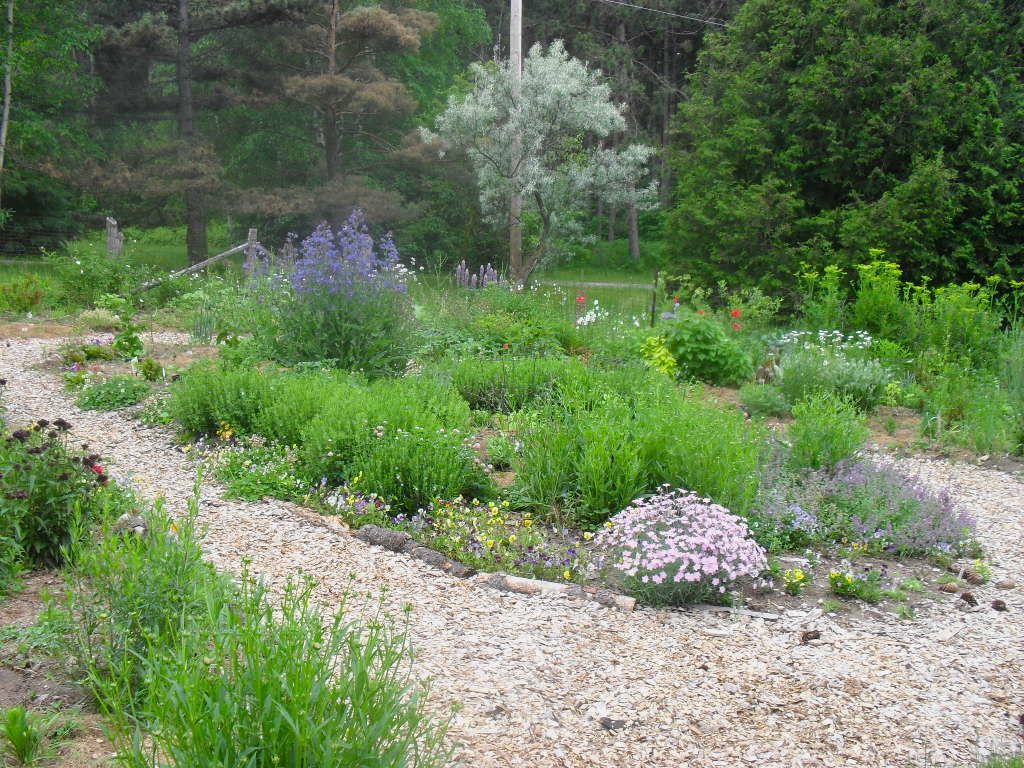 Designed using the classic island and border structure with a wood chip path.
Many metres away is a bed filled with edibles like good king henry, anise hyssop, rhubarb, catmint, salsify, crosnes, malva and more and more. Mostly perennial and self seeding, but there are some annual planting spots that contain zucchini and random solanums such as tomatillos and ground cherries this year.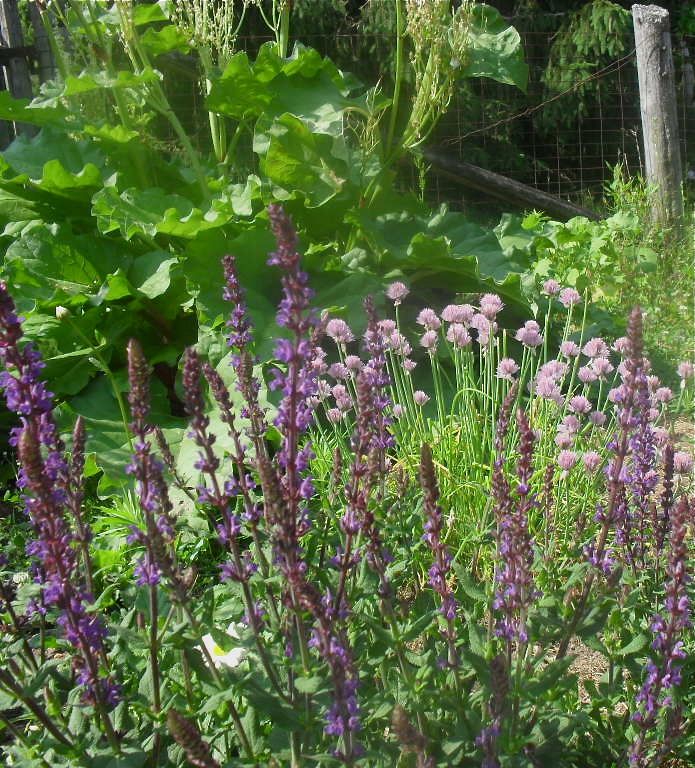 I love this combo of salvia, chives and rhubarb.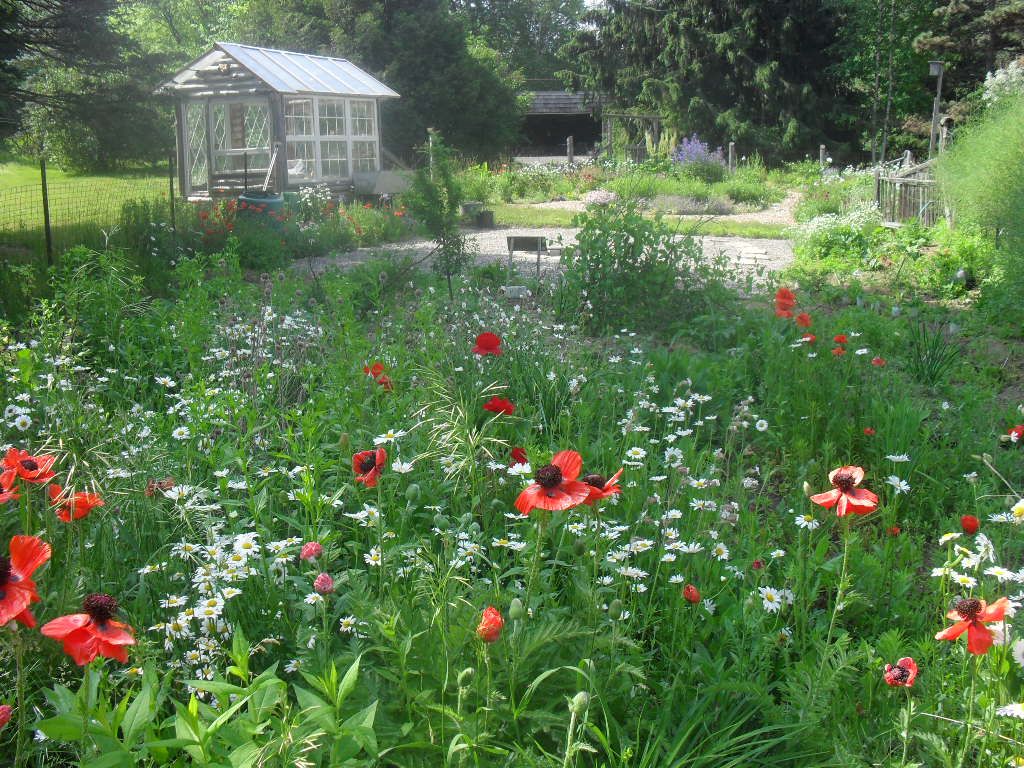 On the other side of the Greenhouse Gardens, past the fire pit are a series of parallel beds that are being reclaimed from wild self sowers such as poppies and oxeye daisy. Not that those plants don't have a place too. I'm just asking them to share. It also houses my dandelion bed - pictures to come when plants are sizeable.
Orchard Gardens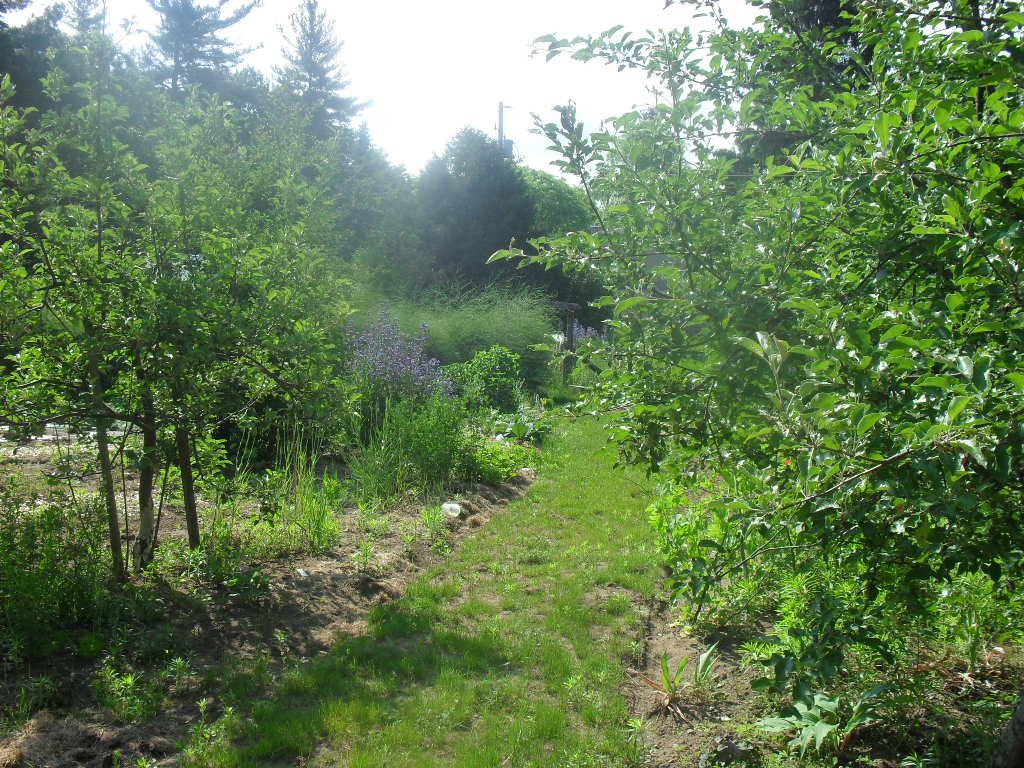 It's difficult to get a good shot of the orchard garden which contains numerous apple, pear and other fruiting trees.
When we first moved in, the fruit trees were grown alongside huge, rolling squash plants. They had kept the area tilled and watered frequently. The soil was very sandy, lacking organic matter and prone to drying out. To help hold water, I dug in paths across the grade and am in the process of filling them in with wood. I also left a central path, seeding it with grass.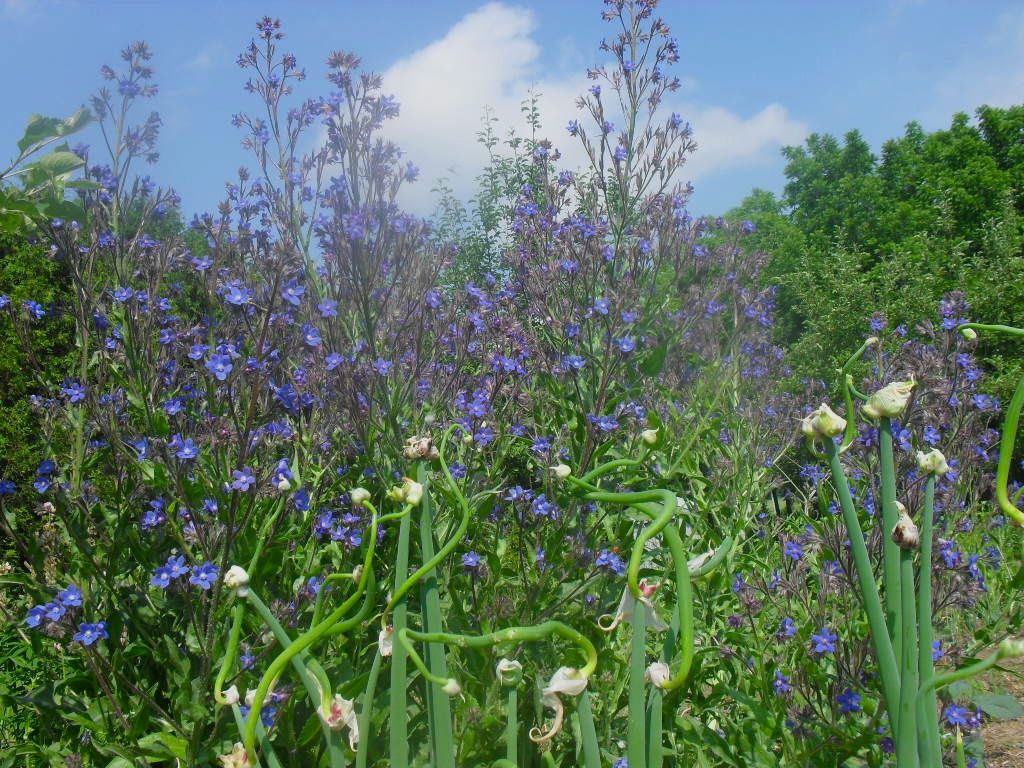 Anchusa is a gorgeous, tall, blue flowering bee plant related to borage. Here seen with walking onions.
To help build organic matter and soil structure, the annual veggies are being replaced with many more perennials and heavy self seeders (though the bugs have been at the seedlings this year). Veggies are still being planted but so are cover crops to be cut and left on the ground to decompose.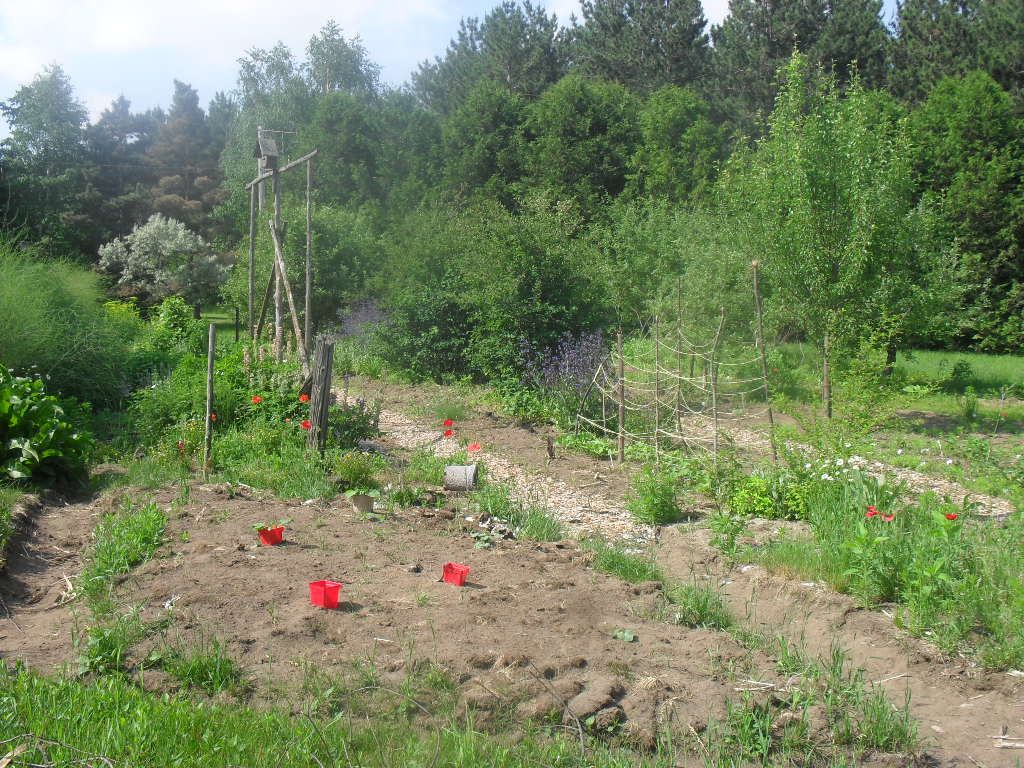 You can see a wood debris path extending across the grade here and the quick bed planted with pumpkins in the foreground.
And I'm still expanding here using a simple method of turning over the sod from the path onto the bed. In this one that is planted up with pumpkin seedlings, there is also some unfinished compost. Weeds will grow up of course which will be cut down to keep competition down and the hole thing will be properly mulched in the fall.
Cabbage seedlings lining the main path with golden oregano in the background.
The plan is to dig in a pond sometime over the next couple of years too at the bottom of the orchard gardens where the soil transitions from sandy to clay.
Barn Gardens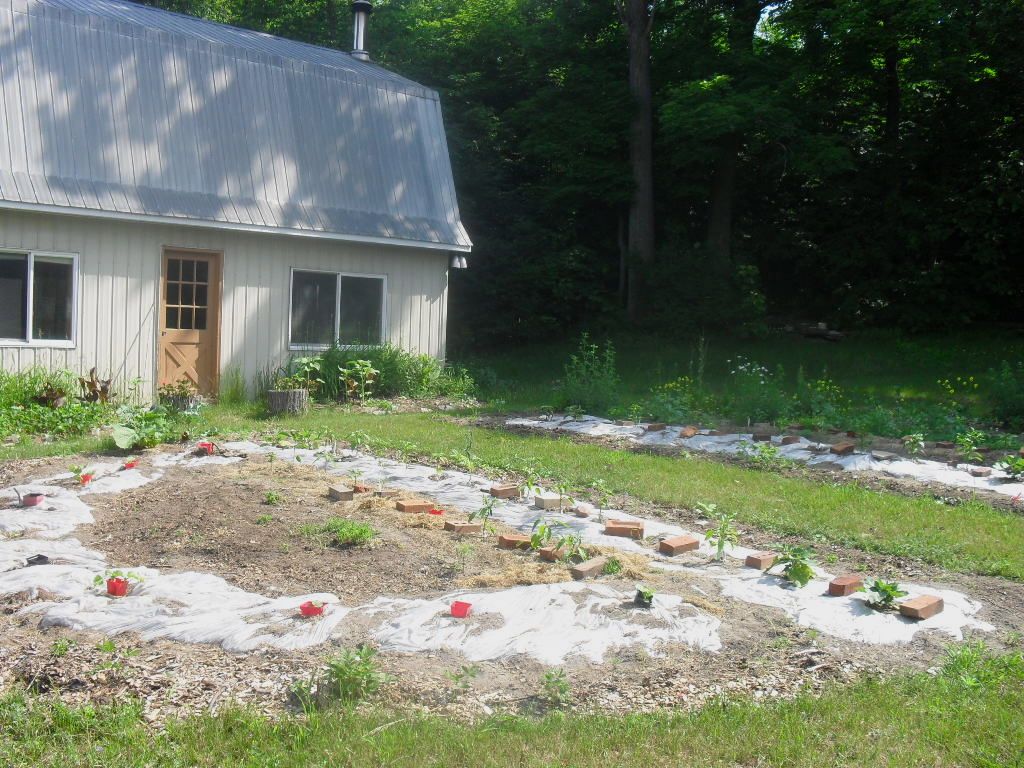 Circular garden with plastic mulch for peppers and melons. This one was made by edging and then dumping a mix of soil and manure on top. Voila. Yes, couch grass did reappear but was promptly (important) removed.
These are all brand new, placed in last year 2011 using sheet composting methods. Directly in front of the south facing barn is a circular garden that has been planted in annuals. I'm planning on ringing it in perennials and placing a feature at the centre on each side. Right now, it is ringed in strawberries - yummy - and currently planted with peppers, eggplants, melons, basil and a self seeding insectary mix.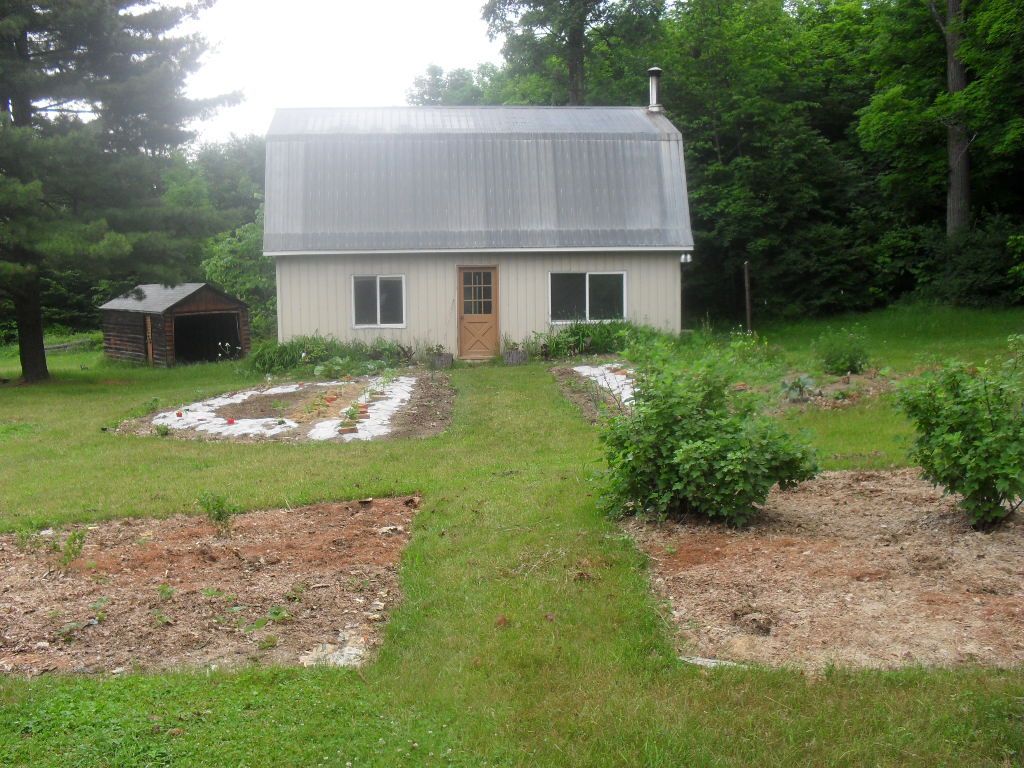 Build by cutting sod short, layering with newspaper (in some spots, ran out) and then mulching heavily with fall leaves.
Next to it is a berry bed with acid loving or at least tolerant bushes including blueberries and lingonberry. Another couple gardens are will be built along side it including a seedling starting bed. Hopefully this fall if my back holds!
Back Rock Garden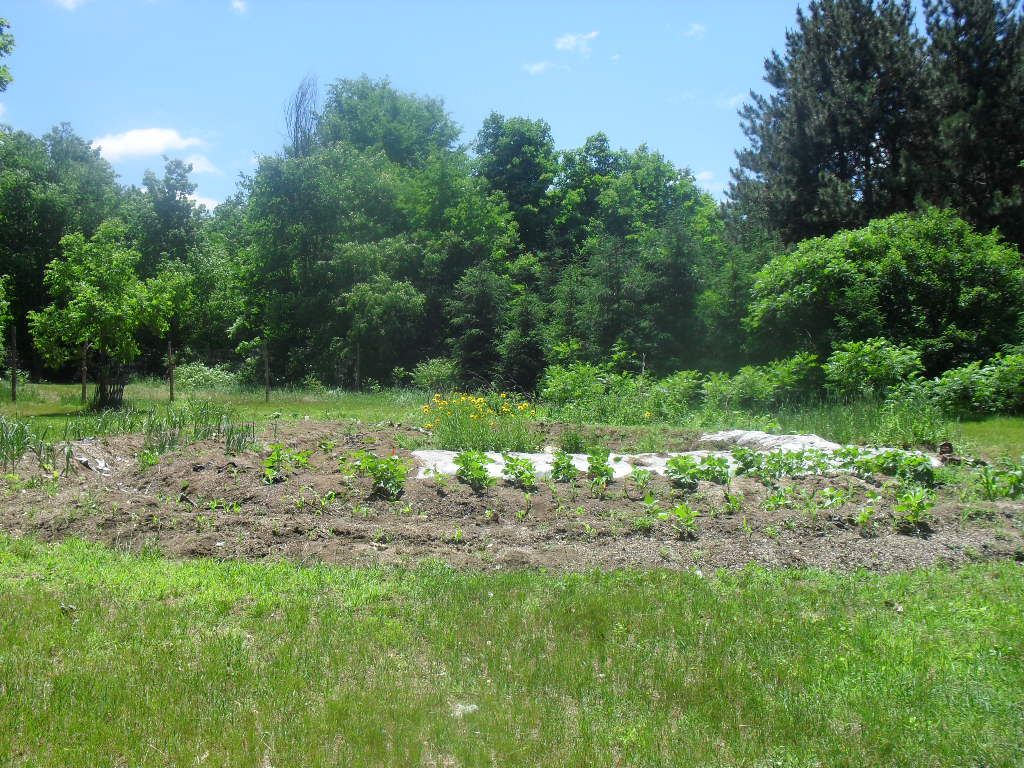 Not the best angle here. I'll try to get another one.
Round the back of the house is a hot, south facing field with rock outcropping skimming the surface. I dug down to expose the rock and then build a series of raised beds around it. Essentially I removed the soil as far down as it was loamy good and tossed it onto what ends up being circular beds that more or less follow the topography. These are getting filled with woody debris too to hold in moisture. Last year, they were mulched with plastic or paper to cut back on weeds and then planted up with vigorous vining crops like watermelon and pumpkin. This year, they have legumes, alliums and root crops or they would have root crops if something didn't keep eating them...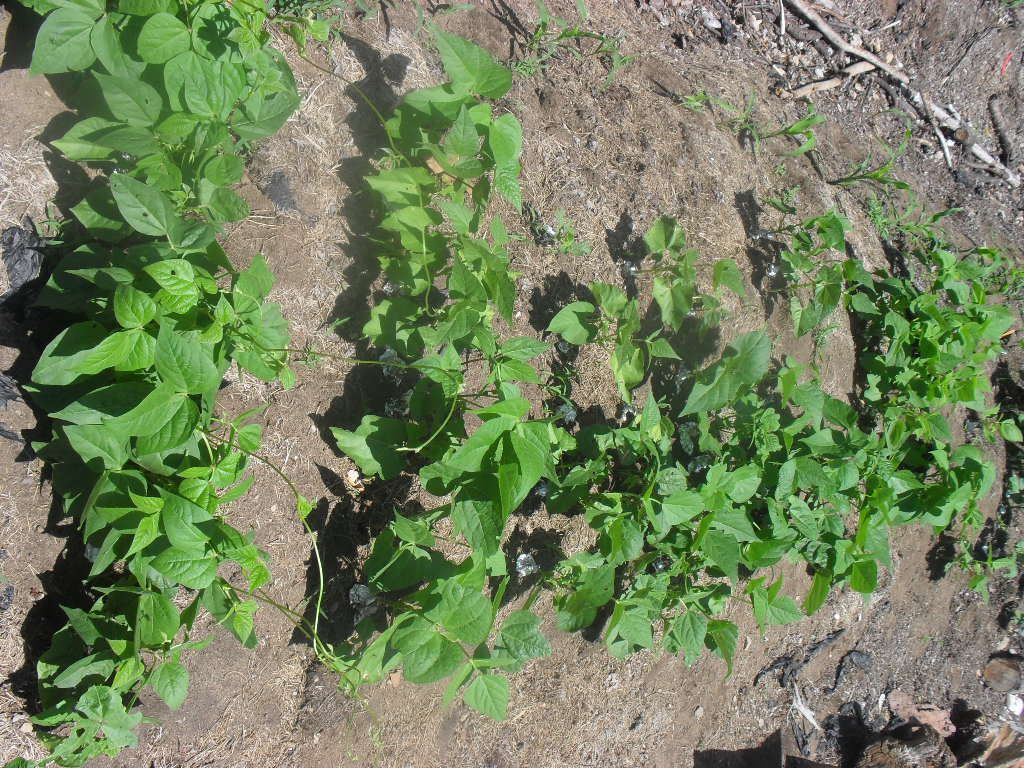 One of the rings planted with bush beans (though I have my doubts about one of the varieties that seems to be twining)
The centre of the garden is a perennial patch. And the outer edge will also be ringed with another low growing flower/herb patch though probably not this year. I also want to find a solution to storing water nearby such as a small pond.
Misc
Some plums and an apple that the previous older called Old so that's it name now. Produces nice apples!
Also, on the property is the plum patch and other tree plantings and a magnificent woods mostly of sugar maple on two sides, walnut and tamarack at the front and pine on the flanking the last side.
For more pictures, friend me on Facebook: Ottawa Gardener. I'm always looking for more Ottawa Gardening Buddies.