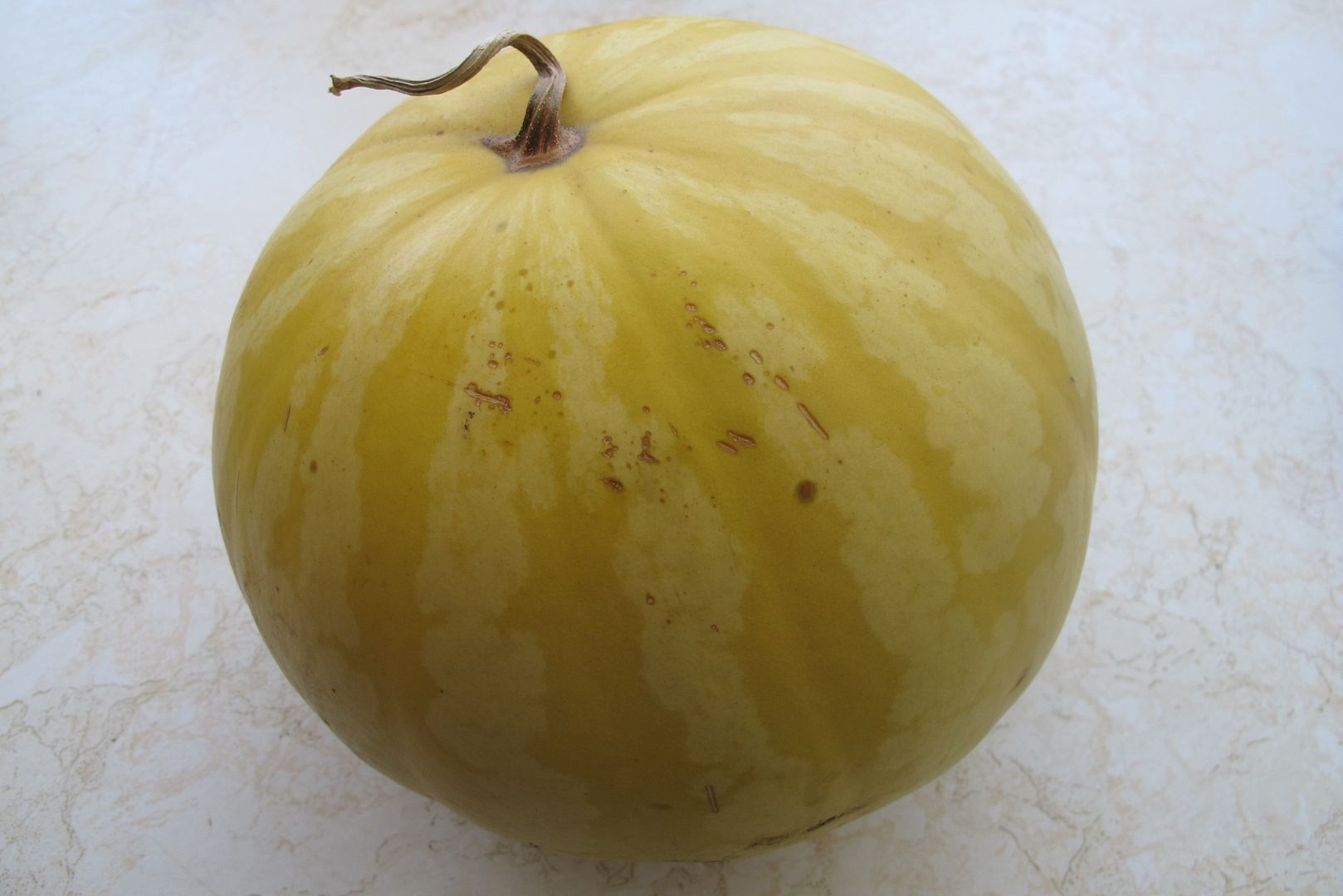 Red seeded citron melon about a year and a half after harvest.
A long storage keeper that is.
It all started in 2010 when I traded for two types of citron - that's rind watermelon not the lemon - at the
first Perth Seedy Saturday
. From luxuriant vines in 2011 came two types of fruit: a huge splotchy oblong type with green seed (I believe)* and a more compact stripy type with red seeds. Somewhat puzzled as to what to do with them, I stuck them in our cool but not very humid basement cellar. I had heard that they were used to "make candied watermelon rind," "the best christmas cake ever," and "mock apple pie."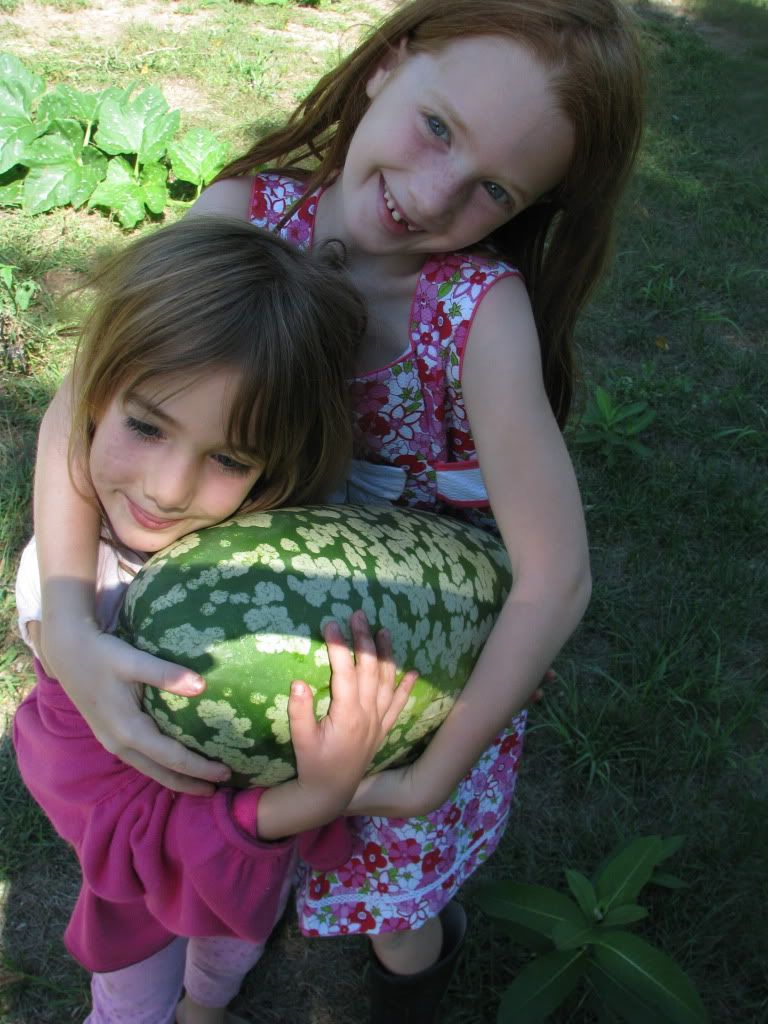 I have this really great picture of a harvest basket overflowing with citrons: both the round and the oblong but I fear it's on the computer that is no more though I may be able to resurrect it from a talk I gave last year. To tide you over, here is the green seeded giant variety held by daughters in summer 2011.
We had more apples than you could shake a stick at** that year so Suzy the Apple Peeler*** and me processed those instead.
In the spring of 2012, they had gone from rock hard green balls to rock hard yellow balls. I wondered if that meant they were ripe now. Figuring they'd go off soon, I vowed to check on them to see how long exactly they would last. The good folk at
One Thing Leads to Another
came round and I handed them over one of the behemoths. In fact, I offered them to anyone who had the fool idea of visiting. They responded with the same half curious, half puzzled 'huh' as me.
Fall 2012, I hauled them all upstairs deciding that they were going to go off soon so I'd just toss them on the old compost pile. They survived a couple freezes on the front step (and my younger daughter just informed me they were excellent chairs) before I put a few in the garden for a self seeding experiment and brought one inside intending on cutting it open just to see.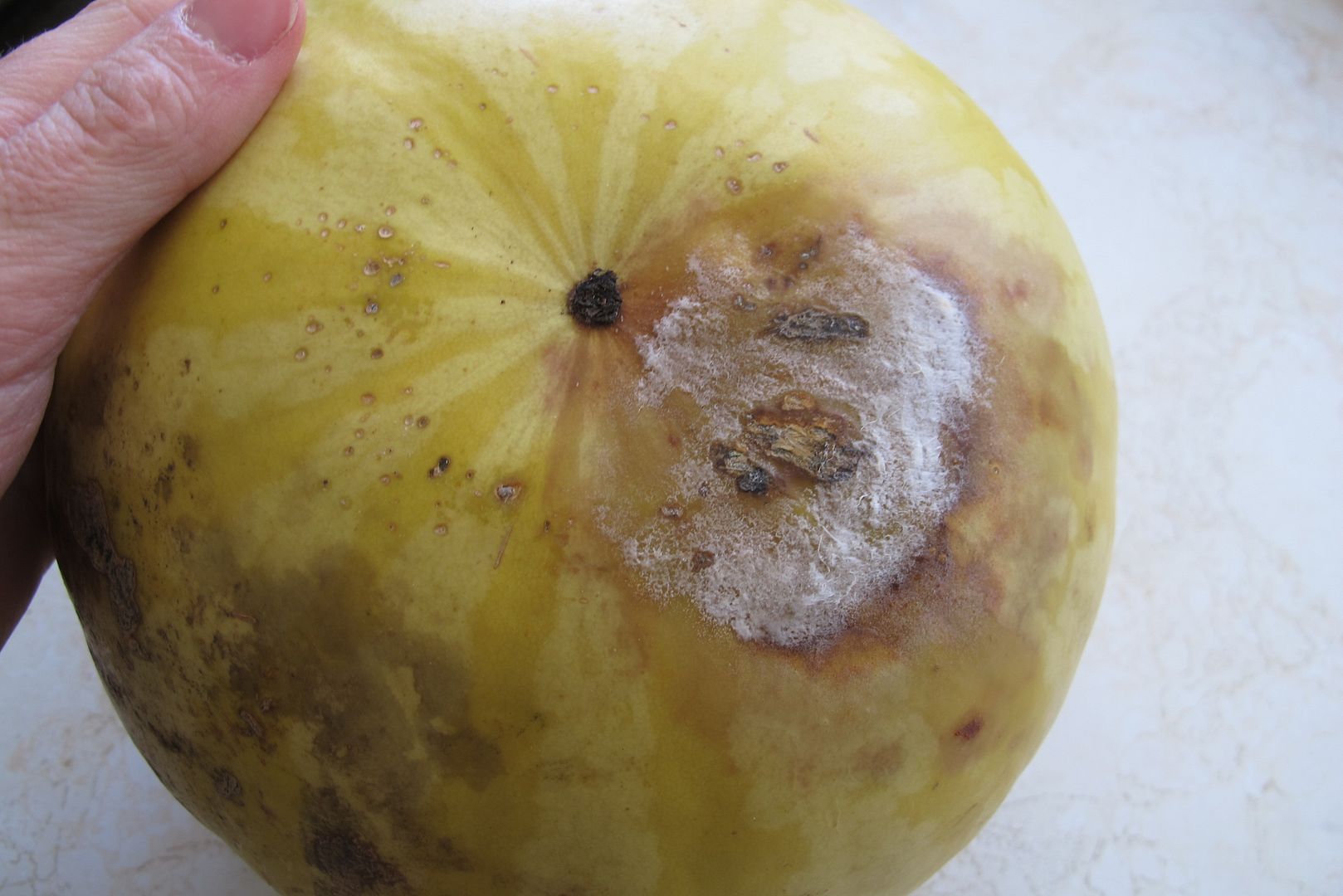 Citron proving that it is food by rotting.
Yesterday in mid-winter 2013, my eyes lit upon the citron. I really have to blog about that, I thought turning it over in my hands. "What's this," I say to myself, "a rot spot?" Forced by its imminent demise, I brought it upstairs with thoughts of how such a long keeper probably had skin requiring an axe to slice. Turns out that it was easier than some squash to peel though this could be because it was well aged.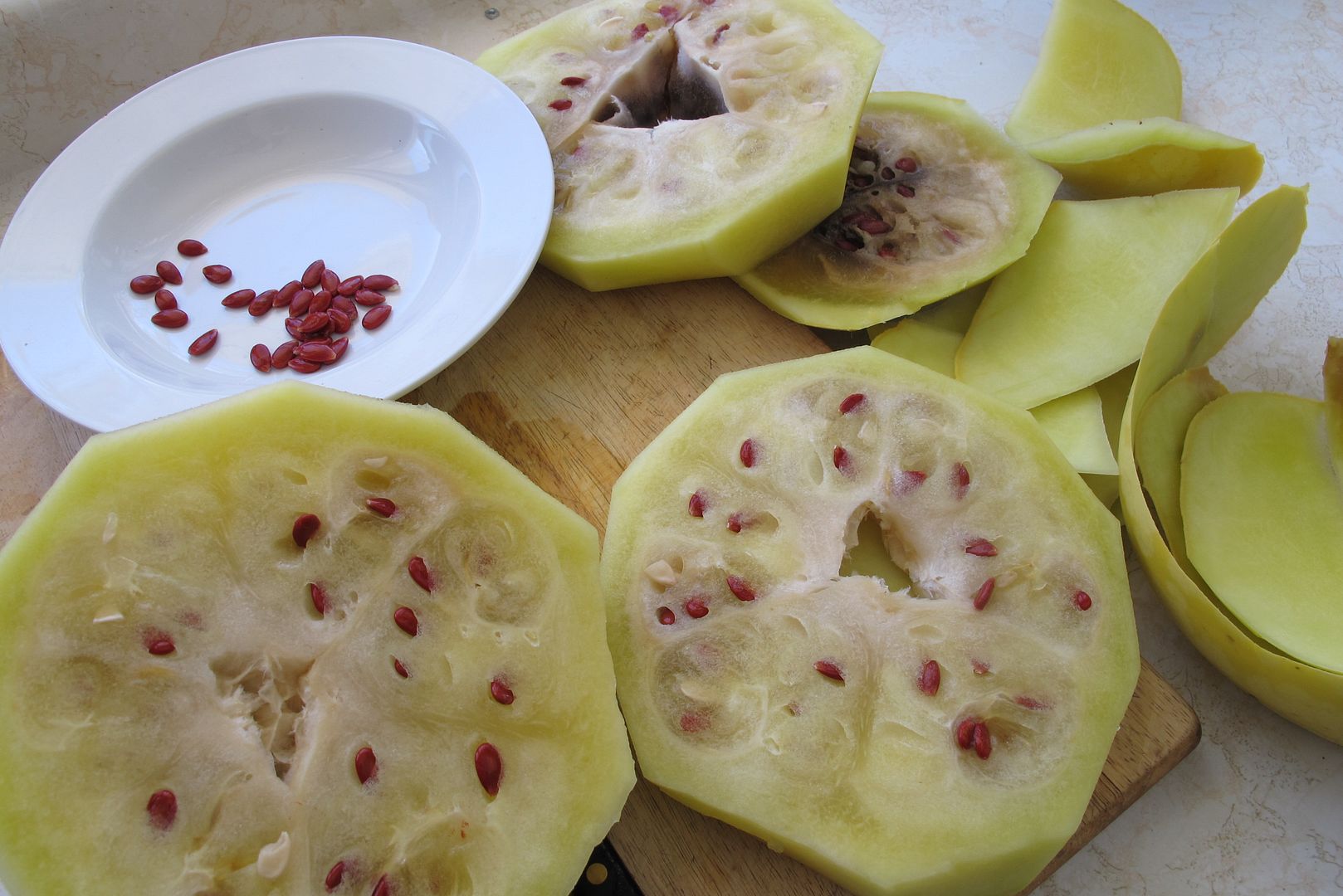 Note the rot, the red seeds and rind.
The inside was no longer crisp and white but mellow yellow and soft around the seeds. Some had sprouted but most were sound. The bottom half was rotten but the top was fine tasting like a mild cucumber. I diced up the rind and boiled it in sugar and lemon then dehydrated it as per a recipe that I stumbled upon.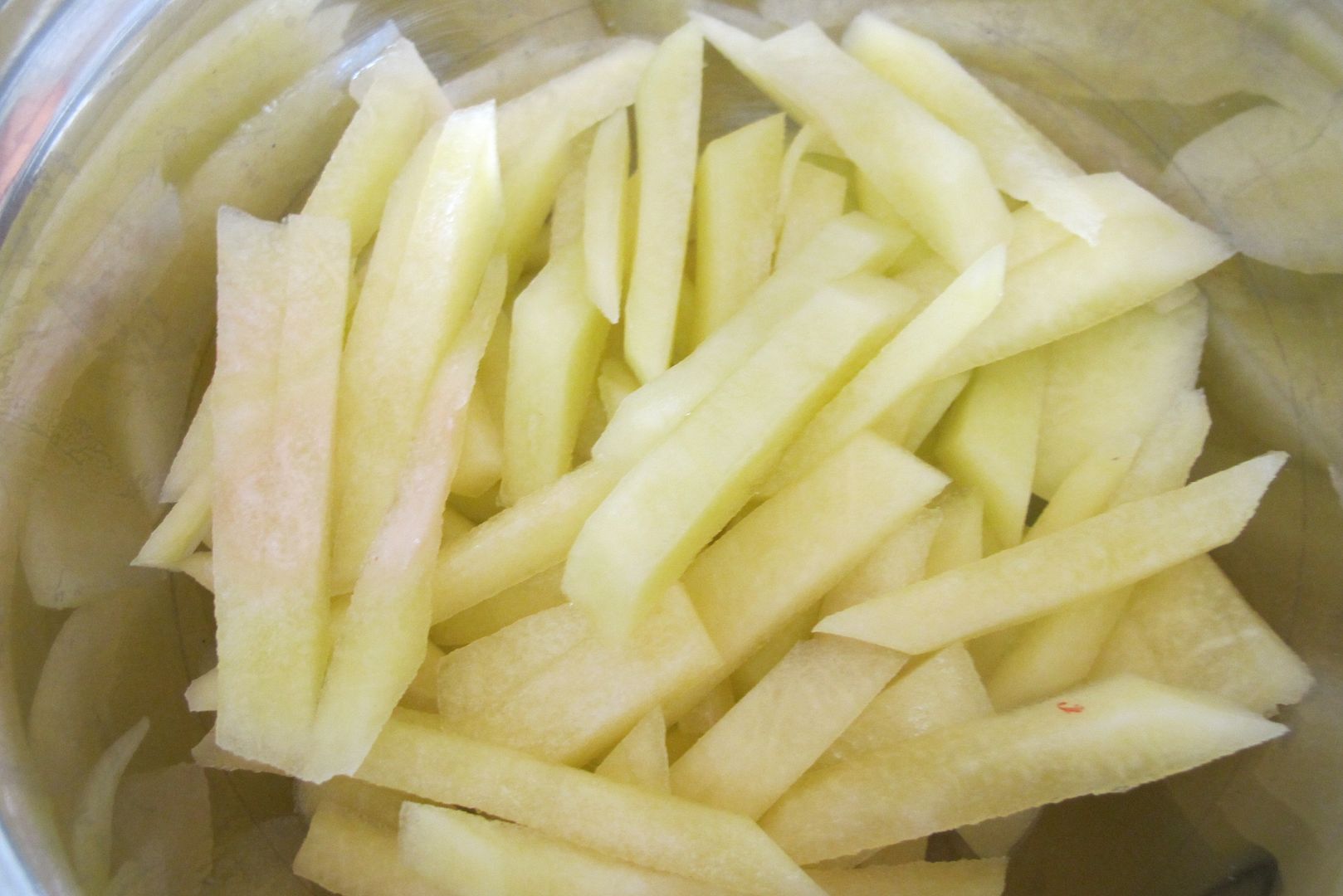 According to my youngest daughter, these look like french fries. They are in fact, citron rind ready for processing.
Verdict: This one's a keeper. Assuming the seeds oblige me with viability, I'll grow them out again next year. They may have crossed with the behemoth green variety so we'll see what we get. I assume it will be something with a steel skin, a suspiciously long shelf life and mysterious innards requiring preparations techniques gleamed from historical text.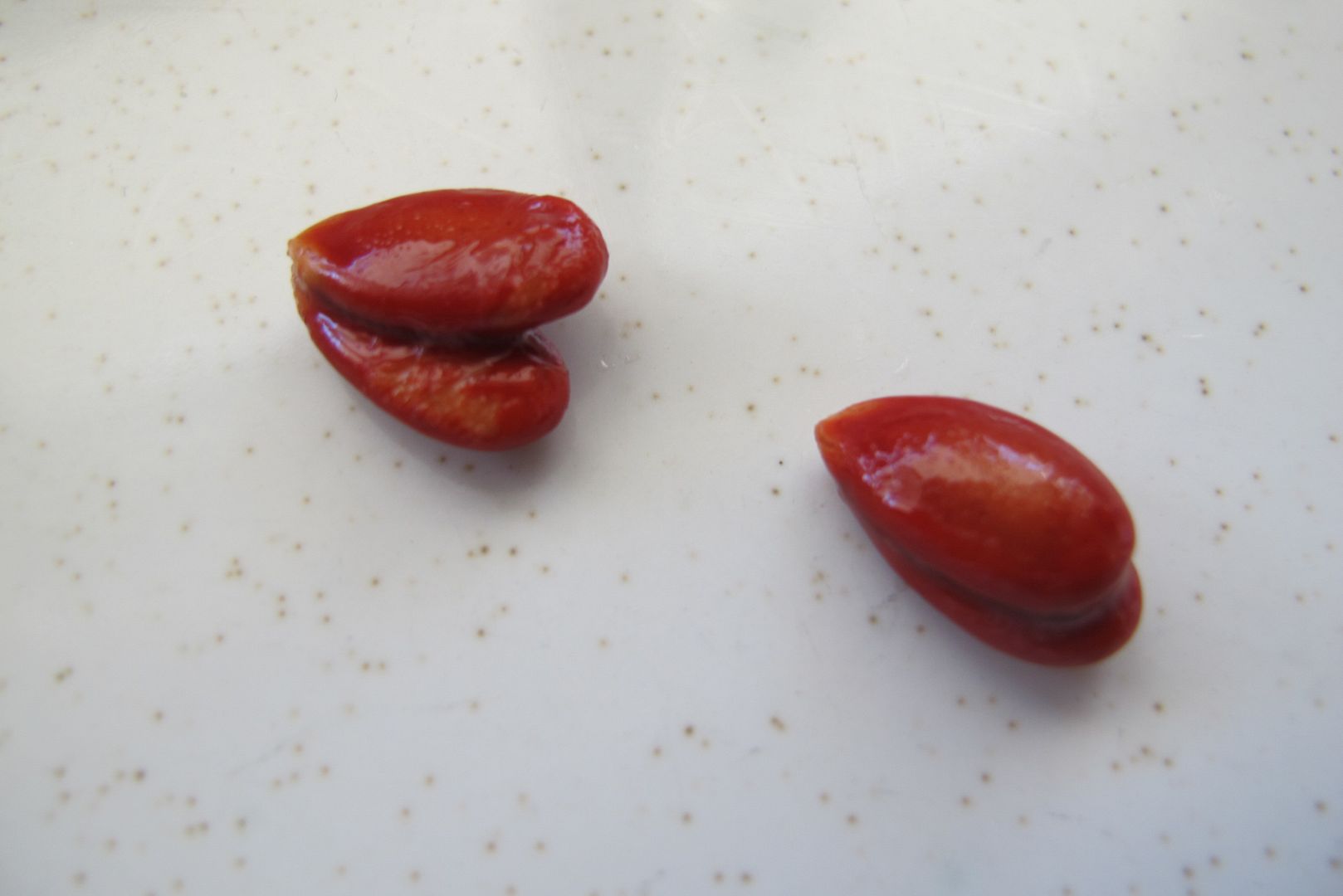 Here's a curio: these seeds were conjoined.
* That's right, I'm not sure. You may have noticed that I was somewhat neglectful of the citron melon. I did open one early on hoping that the giant watermelon was a giant sweet watermelon and being disappointed to see it was a citron meaning none of my neglected sweet watermelon had germinated just all that citrons proving that it is also quite an independent grower. I didn't take note of the seed colour. The other giant ones were either composted or given away so unless a recipient can confirm, I can only assume they were green seeded as the small ones were red seeded. Unless of course there was something more complex happening.
** While writing this, I wondered where does this expression come from. I asked Dr. Google who answered that s/he didn't know or rather, it might be
these things
.
*** Suzy the Apple Peeler, or just the green apple peeler that I got at Lee Valley, is a wonderful time saver that both peels and cores apples. Together we make shorter work of bushels of wormy, irregularly shaped apples.
***
Links
Eat the Weeds posts on Citron Melons and Abandoned Preserves
Karen's Kitchen and Citron Preserves
Culinary Historians of Canada and Citron Melo
n
A Gardener's Table gets creative with Citron
Thundercat's Kitchen watermelon rind pie recipe