I'm in the midst of two experiments dealing with two of my favourite vegetables that like different weather regimes.
Experiment I: Cool Cabbage
Flowerbuds on rooted cabbage cutting.
*If you have no idea what I just wrote below then go to the bottom*
The first is my San Michele x Red Rock Mammoth cross. If you haven't heard about me gone about it before, well then, welcome to an odyssey. I haven't managed to yet get f2s so I figured I'd try rooting cuttings and overwintering. All was going well but then I realized that I will have to vernalize in order to get flower. Generally I plant out cabbage early without inducing flowering and those heads that have overwintered, so far, have not produced seeds but more heads (part of why I don't have f2s, along with the bugs and freeze-thaw of spring). So I thought they would need a rather long exposure to cold. I started off with sitting them in my shoe room near a window. It gets cold in there but not horribly. They were there for a week. Then I put them in the garage window where I had planned on leaving them until the end of winter but only managed they were only there for a few days before it dipped into minus double digits so I moved them back inside planning on doing the shoe room treatment again. Mistake. They immediately started elongating and producing flower buds. Dang it!! Now, I have a few that are further behind and some that I did not attempt to vernalize so all hope is not lost. Not only that but in the spring, I will take cuttings from the plants emerging from the snow before they get all freeze-thaw-mushed on me. However, now the experiment has taken a turn. I plan on potting on again and hand pollinating with the hope of getting viable seed. Lesson learned I guess. Hold off on the vernalization until March.
I *could* potentially remove flower heads until spring. Maybe I'll do half and half.
Origins of this Cabbage
Experiment II: Hot (Sweet) Potato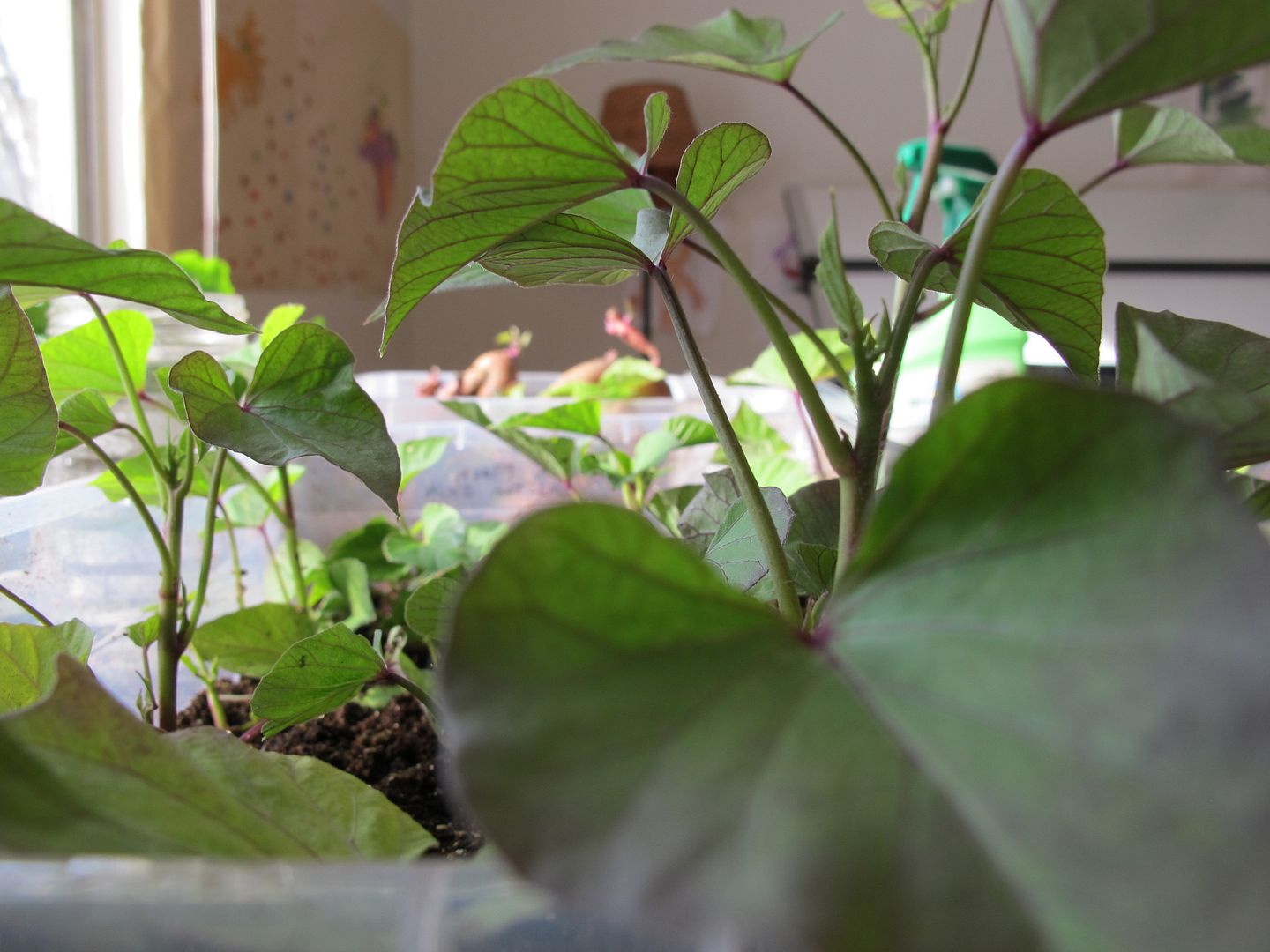 These are freshly slipped sweet potato plantlets, doing some branching which I hope to cut off and root.
This is not a very serious experiment, I have to say. I am just starting my shoots really early so that I can cut them into sections producing more plants than usual for spring with fewer tubers. So far, roaring success. Sweets root easily from cuttings. Nothing further to report yet. The danger, I suppose would be if I get an indoor bug infestation. Not to fear, I have more roots that I can force later which is good as I am predicting a late spring (sorry folks). Don't cry though, I'm using my 'intuition' rather than probabilistic forecasting. That and the amount of accumulated snow and cold weather patterns.
Extra Experiment: Craggy 2 year old, broken sweet potato tubers will sprout. Go figure.
*** For those that didn't know what the heck I was going on about because your plant obsession hasn't quite reached critical levels, here is a translation. P.S. There is plenty of room in the rabbit hole for you.
I let the bees frolic in the flowers of two types of cabbage. One was called San Michele. The other was named Red Rock Mammoth. They made seed babies. As this is the first generation of the cross, they were called f1s. I loved the variety and wanted to see if I could get it to be stable. This is because when I let these babies flower and set seeds, the characteristics will all jumble up again making for lots of variation. I would have to select plants that I liked and save seed for generations until the babies produced were more or less the type I wanted. But to start, I need the second generation or f2s. Cabbage usually flowers in the second year after winter. I have been trying to overwinter my first generation of the cross but had problems. These were 1) eaten by bugs, 2) turned to mush because of oscillating temperatures in spring and 3) didn't both to flower and made another cabbage head instead. Now, I plan on trying a frost blanket, also called a floating row cover this year, (duh) but foliage emerging from snow is very tender so I'm not convinced it will work. Cabbage heads always mush out for me in winter but I do get a lot of leaves growing out of the stems in spring and sometimes flowers which is why I was able to make the cross in the first place.
As an insurance policy, I decided to take advantage of a trick that many members of the cabbage family have which is that they can grow roots from sprouts off the stem. I plucked those and put them in moist soil. Some, I cut a bit of the stem off too with the sprout. They rooted and grew very well but they were inside not exposed to any cold. The aim was to get them to flower not make more cabbage heads. So I tried to give them some gentle cold in order to get them to spring where I could plant them out and they could flower for me. Fail. They flowered early.
This means that to rescue the experiment, I am going to have to move pollen from the male parts of the flowers to another plant's female flowers in hopes of getting some mature seed that will grow. Wish me luck!