…on purpose. I'm stratifying which means giving seeds a period of moist cold to overcome germination inhibition so they will sprout.
I place seeds on paper towels or coffee filters then put in a plastic baggie. This takes up very little space in my fridge or other location that I am giving seeds special treatment. You can also use your baggie to give seeds oscillating temperatures or warm treatment. I use the latter to get peppers to germinate faster.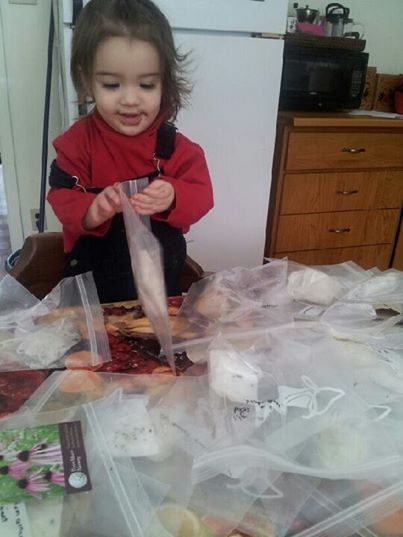 Baby with breakfast on his face helping.
For very large seed that won't be in good contact with the paper towel, I've heard of people using cotton balls but I use vermiculite. I also use vermiculite with very, very small seed so that I can sprinkle the whole mix in the seeding tray when ready. Sand would probably be a good substitute.
They would stay in the fridge for a certain period of time say six weeks or whatever is recommended (yes sometimes there are no specific recommendations). During this time, you are telling the seed that it is winter and when you take them out of the fridge, they are experiencing spring so it's a good time to sprout. Only, many seeds will not wait their allotted time. Whether this be because those particular seeds or that variety does not really need the cold stratification AND also does not need high temperatures to sprout or because they prefer to germinate in the fridge-like temperatures of early spring, is something to speculate upon. Therefore, I check my baggies frequently.
Wild plums from a local source
Here, some wild plums - perhaps Prunus nigra - started to germinate after six months in the crisper whereas their cousin nanking cherry - Prunus tormentosa - jumped into growth after only a few weeks messing my plan of holding off until spring to plant. Instead I put the sprouting seedlings in the ground in fall.
Hablitzia tamnoides is reputed to prefer cooler temps to germinate though it seems somewhat adaptable. Here is my own seed crop throwing roots.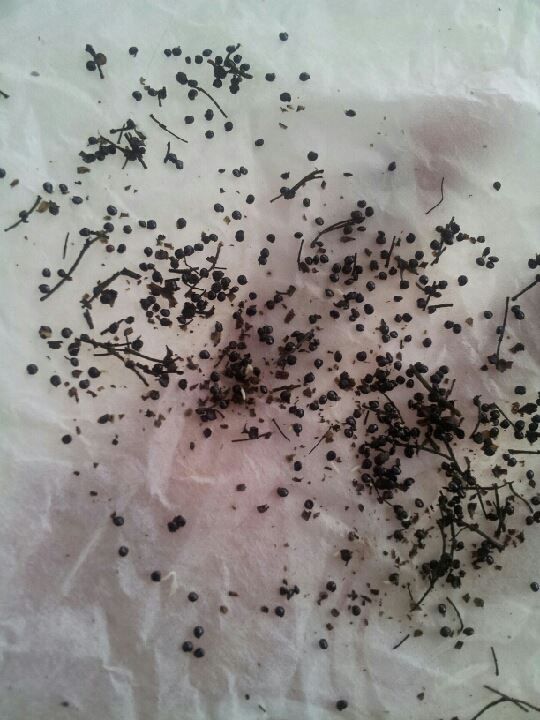 Hablitzia tamnoides, our seed for Aster Lane Edibles
I'm using the baggie method because I want to grow some of these plants big enough to sell in the spring otherwise I'd probably just
wintersow
. This is using a recycled (or not) plastic container with drainage and air holes partially filled with soil and seed that acts like a mini greenhouse. It is great for cold hardy greens, plants that volunteer, wild flowers and other plants that need a period of cold to germinate or at least don't mind it.
You can even snow sow. Yes, that's tossing seed on top of snow. This is a version of stratification and seems to me that it would be most effective if done in the fall or early spring just before a snowfall that would insulate the seeds and help work them to the ground.