About half the onions braided in sister-in-laws hand - Hi!
Summer and vegetable production is in full swing. Alongside visiting with my family who are here for a month, volunteering for
Canadian Organic Growers
(visit them :) and trying to get the gardens here into shape, I'm also harvesting. It is the time of year that it might be faster to tell you what I'm not harvesting than the reverse but here goes in bad poem format: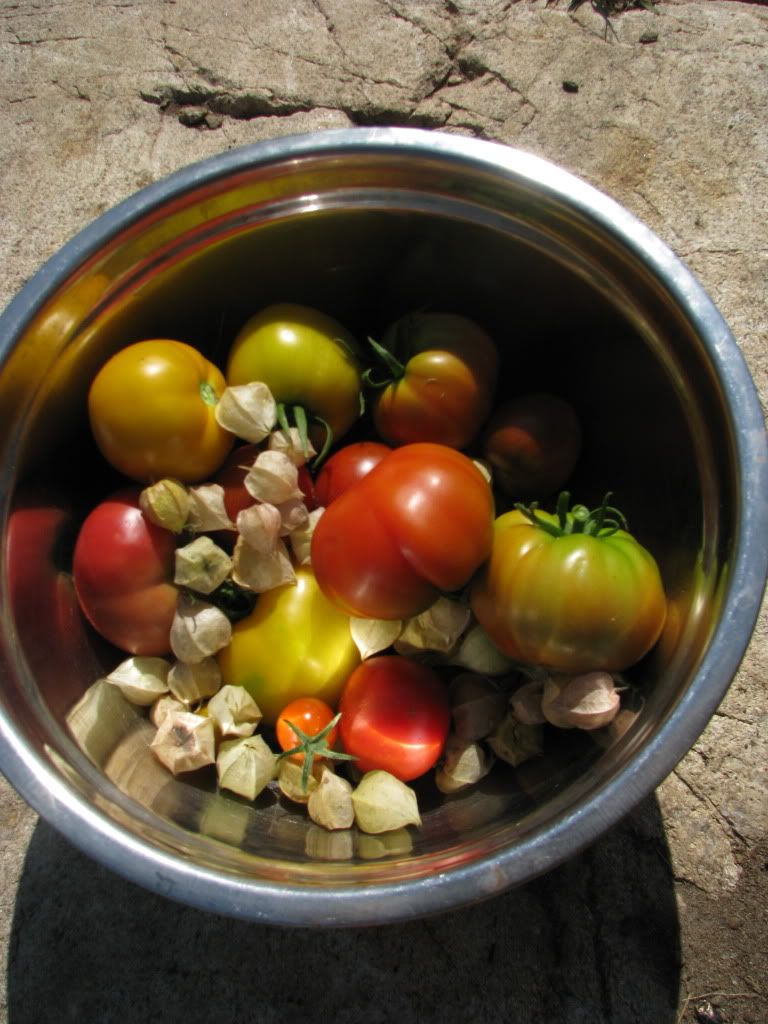 Various tomatoes - lots of blossom end rot on some - grrr - with ground cherries and some sunberries.
When summer sun starts to shine
On greens I do dine
Waiting for the first taste
Of fresh tomato paste
Eggplants, peppers and zuchini
Make a lovely sauce for fetuccini
Not outdone by the berries
Blueberries, raspberries and strawberries
Did I forget the currants?
Or the beans and peas in torrents?
How about all those crops of cole?
Broccoli and cabbage on a roll
Garlic, onion and carrot
Gosh I have a healthy diet
Squash and cantaloupe are almost done
I know I am forgetting some
Like the weeds that grow just as fast
But soon summer will be past
Did you get all that?
My mouth waters ever time I see this melon.
***
In other news, per suggestion of a friend, I have been thinking of turning my twitter account into a nagging garden Aunt alert so if you wish me to nag you about what to plant when, let me know.
P.S. Plant some more lettuce would you!
P.S.S. Upcoming blog posts: more weird veggies, my acreage under construction and lots of brassica seed threshing.
Daikon radish, rattail radish and chinese cabbage are among the many brassica seeds that are currently in the drying shed.