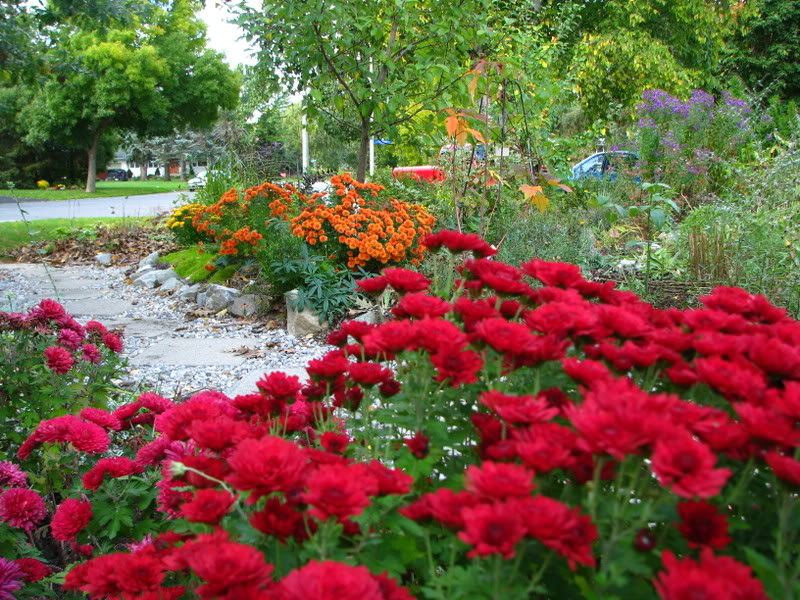 Crimson mums in the foreground and fire orange in the background keep the garden glowing this time of year.
I choose these lovelies next because they scream for my attention this time of year and I have heard that some people eat the flowers. It has me wondering, how useful are they? Would I cook them for guests? Do the bugs make use of them as a late nectar source or do the typical double-zillion flower forms make it difficult for bugs to get their dinner?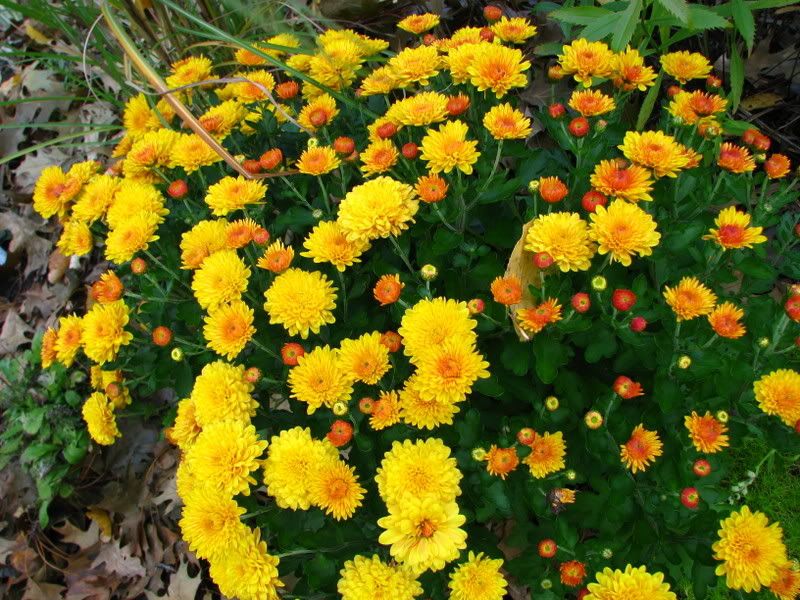 These brilliant yellows I rescued from a box stores dumpster. It was a six pack of mums and they have been moved and divided again and again. I forget the name or it might not have had a tag but I imagine it was something like 'sunset colours.'

To answer the first question - are they palatable - I decided that I'd try some. Okay, I am gingerly picking some raw pink petals and popping them into my mouth. Taste? Kind of floral - chyrsanthumy and ever so slightly bitter. I wonder what they'd be like after a frost. Not altogether unpleasant and probably quite nice sugared but these flowers have a tradition in asian cooking so I am not going to stop there.

They seem commonly added to hot water concoctions like 'tea' and 'hot pots' or 'soups' so I will dry a pile of them and when the moment strikes, throw some into my dish. I'll report back on the effects.
Addendum: Apparently, some people develop a skin reaction when handling garden mums. I never have but maybe you will.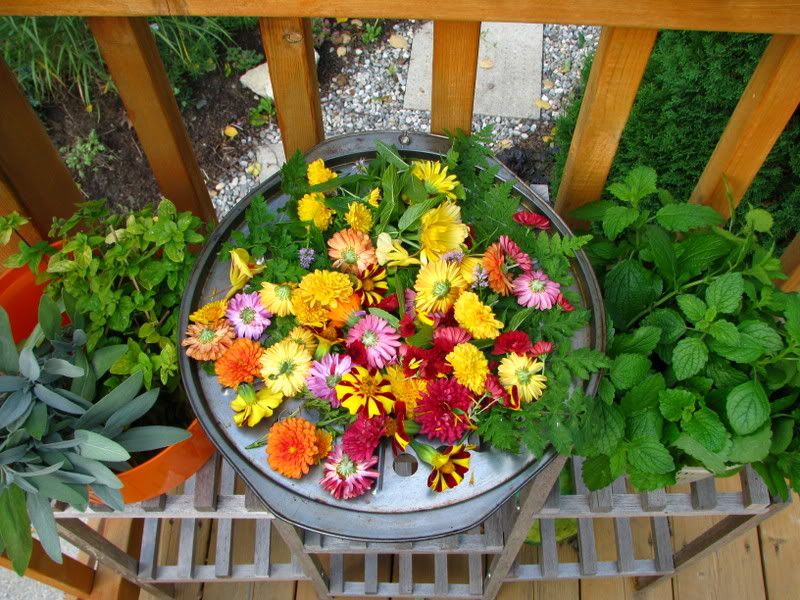 Note: I am not going to eat the French Marigolds but they were added into my overwintering pots of peppers as a 'spell?' against aphids. At any rate, I thought it couldn't hurt. Other flowers are calendula, nasturtiums and mint. I've also cut some sweet cicely and lemon balm for tea, along with oregano and sage for winter use.

So do double chrysanthemums provide a late season nectar source? Generally, sources will tell you to buy single flowering varities whenever possible because the nectar and pollen are more freely available. In fact, according to The Vegan News Summer 2003, double mums would contain almost no pollen which is good news for those with allergies and may also be good news when you wish to consume the flowers. It is oft' quoted that 'one should avoid the pollen in the centre least you be allergic' even if the flower is edible. Not only that, but there are a lot more edible petals on the double varieties.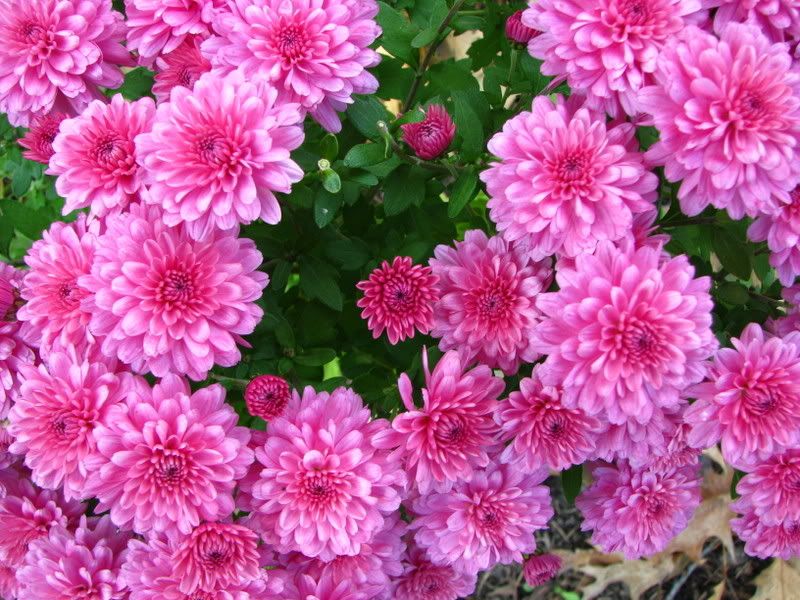 Last year, I got bowled over by the pink hues of mums and this year the oranges captivate me more.

So I'm guessing that these 'formal' double mums are less than thrilling treats to the wild critters but that the following pink mum with these lovely yellow eye sends them into the happy hungries.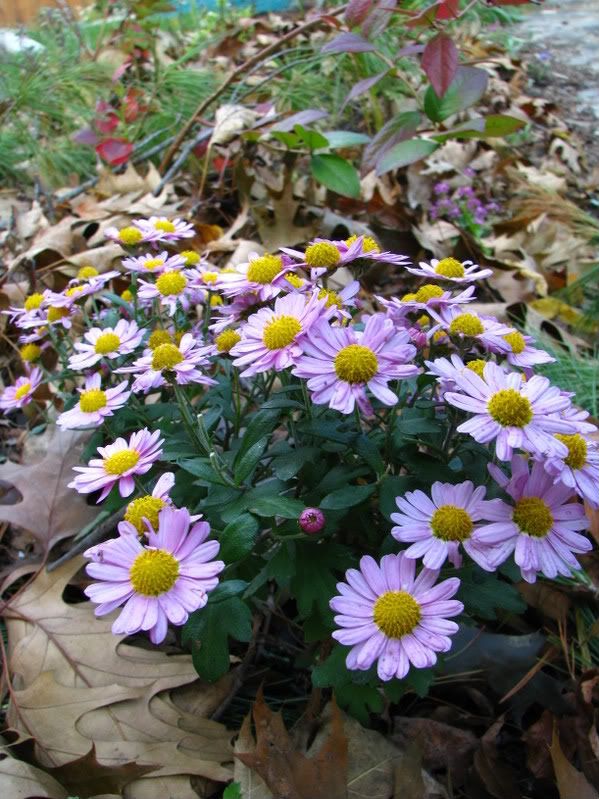 Speaking of pink mums, I especially like these simple flowered ones which are hard to come by. Here are some growing amoungst the blueberries.

Of course Chrysanthemum coronarium, which comes in various leaf shapes, is used for edible greens. (I have no idea if other mums greens are edible but at least one source suggests not.)
Unlike many other mums, this is an annual. I have heard of it self seeding sometimes such as in The Organic Salad Garden by Larkcom but I've yet to grow it myself. It is definitely on my curious enough to try it list.
In the meantime, check out the list link for mum recipes to try yourself.

***
Plants on Trial Score: 5
Will I keep it in my garden: yup (I might get more)



***
Vital Stats:
It's not so easy to discuss the care of these diverse plants so I am going to focus on hardy, fall flowering chrysanthemums not florist mums.
life cycle
: Hardiness varies with cultivar, easily divided and transplanted.
Use
: Flowers edible and possibly palatable greens (Garland mum is grown specifically for edible greens).
Design Use
: Up to around 3 feet high, the vast array of flower colour and form give great fall colour in any garden setting. It is generally recommended that they be pinched back earlier in the season to make a bushier form.
Growing Preferences
: Full sun but will take some shade, average water. There are sooo many varieties that I can't be sure of what all of them prefer but in my garden they are grown in well drained soil in part shade in my generally dry front yard.
Links
Chrysanthemum fire pot
Chrysanthemum Wine
Chrysanthemum Tea
Chrysanthemum Hot Pot
General info about garland chrysanthemum greens
Purple Podded Peas blog on 'Chop suey Greens'
or edible, annual mums, looking for recipes. So am I.