My baby plants are growing. I've started some dwarf tomatoes to try as windowsill - patio - windowsill plants. As many of you may know, tomatoes are perennials. I am not sure how long lived our cultivated (and wild) varieties are but I intend to find out.
Little leek babies - first portrait.
I've also started some really cool looking leeks called
Saint Victors
, from another generous
Homegrown Goodness
guy who was getting some seeds from the
Long Island Seed Project (LISP
). May I recommend a browse of their seed selections if you are interesting in plant breeding. What is really neat about this leek is that they have selected to improve its tendancy to turn bright purple in the fall.
My hot peppers that I pre-sprouted* are started to root and the Pasilla, Fish, Small decorative pointed (collected this one at a park - ssshhh, don't tell - so I'm not sure what it was - I promise I only picked up some from the ground, really), and Jalapenos are now potted up.
Speaking of peppers, my overwintered peppers are picking up. Here is the Long Red Cayenne which in early January I figured was a goner because I thought I saw spots on it. Turns out that it overcame whatever was the problem after being exiled to the laundry room for a week.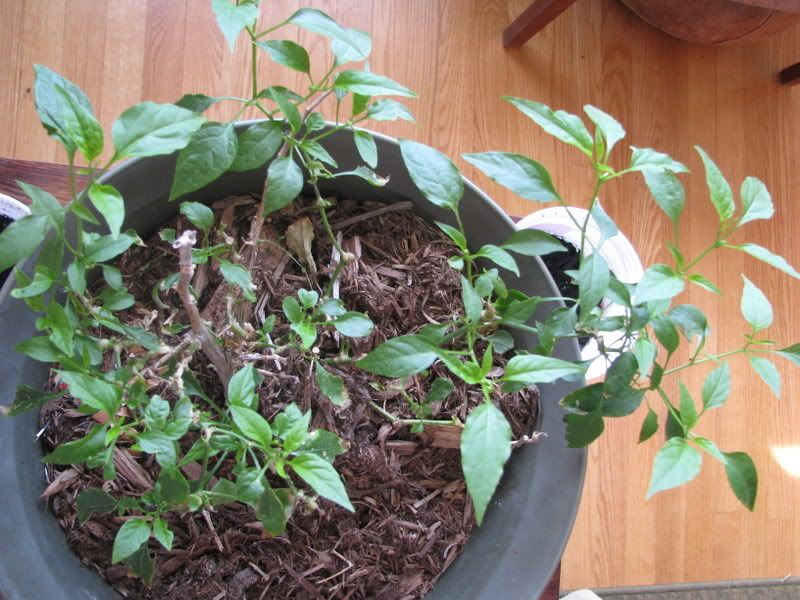 Long red cayenne in its third overwinter. Happy birthday - you're four!
How are your plants overwintering? Started any yet?
Extra! Extra!
* Pre-sprouting or chitting: This refers to starting your plants out of the soil. People often
green-sprout
or chit potatoes. It is a useful technique for seeds that are hard to germinate too, either because they are hard to keep evenly moist during germination or because they require a lot of heat or some other reason. It is also a good way to check the germination rate of old seeds.
How I pre-sprout is that I moisten a paper towel, not dripping, put seeds on it and then fold it carefully and place in a labelled plastic bag. I place the plastic bags in a warm place and check daily. This is by no means the only technqiue and
I Wet My Plants
uses the more resilant coffee filter. As I'm writing this, I'm wondering if you could also use something re-usable like soft tightly woven cloth? I'll have to give it a try. One potential problem are the roots growing into the weave which occasionally happens when you forget to check daily. Then with the paper towel, you can carefully pull it apart to extract the trapped seedling. If a bit of paper towel remains, it's not generally a problem as it breaks down in the soil.