Oh happy Hallmark day.
Now, back to seeds...
updated with links
---
Every since I got into gardening, I have noticed that some of the produce that I buy at grocery stores and farmer's markets has seeds in it. I could not help but to try and grow some of these seeds and more often than not, I have positive results. I commonly save squash seed even though I know it might come from a hybrid source. This 'butternut' captured my attention because it's not what I would call a butternut. A C. moschata yes, but it doesn't have the normal squat flat bottomed shape of a butternut. After a bit of searching, I would call it a 'neck pumpkin' similar to the famous vining Trombocino that is used a summer squash. I still haven't decided if I will grow some of its seed though I did save some Acorn Squash for seed. I figure in a big farm, they probably have enough plants for genetic vigour. Right?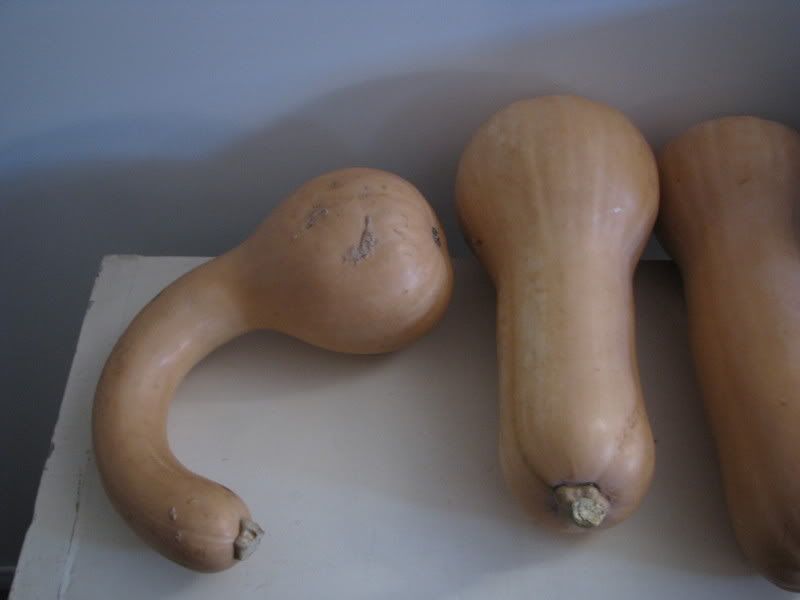 What I think is a neck pumpking beside a couple of Waltham's butternut squash from our garden.
Not only do I find myself separating out seed from fruit but sometimes they just sell you straight up seed! You know flax, mustard and countless legumes. I have had nearly universal success tossing these spice and bulk food purchases on my garden. This year, I picked up some black soy beans and a couple varieties of lentils from a local organic store to sow.
It's not just the seeds though, but anything with a root still on it or that can be propogated by vegetative means has crossed my mind as a candidate for inclusion in the experimental grocery store plot (okay I don't really have a separate plot but it would be neat if I did). Green onions will happily grow again and leeks may set flower. My horseradish and Jeruselum artichokes came from different produce sellers. All my garlic originally came from the garlic festival in Carp. In fact, the best way to get good varieties is to go to your local, organic farmer's market and casually ask, "Is this from hybrid seed?" Ignore any strange looks you get.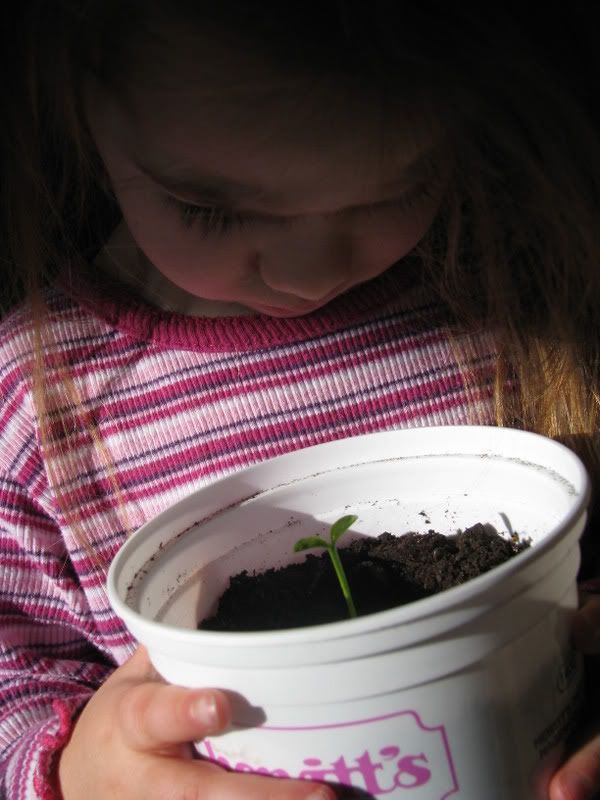 My youngest and a seedling we grew from a clementine. She asks nearly daily when we'll get oranges from it. I told her that it will make a lovely houseplant but I'm not sure about the oranges.
As I have gotten leek to flower for me after replanting it, I am going to try with some other biennials this year including beets, carrots, parsnips and daikon radishes just for the heck of it. They might (haven't checked) require a stratification period (some cold) so I'll plant as soon as the ground can be worked.
I'd love to know your grocery store gardening experiments!
--- speaking of which ---
I forgot to mention that I decided to write this post because I've bumped into various other posts recently that have inspired me. Found the other link
Mostly Gardening and Pepper Seeds
Gardening Fool and green onions