People chatting seeds and plants.
It was a gorgeous day for Seedy Saturday in Ottawa which put extra sunshine into everyone's smiles. I look forward to this event every year, not only as an opportunity to get some seeds (that's always great) but also to meet up with friends.
Some old friends...
and by that I mean well worn in the memory files
The first thing you see as you walk in is the trade table. My seeds are in little plastic baggies with indelible ink written across the front. We'll call this minimalist compared to the cute designs of
I Wet My Plants
. Here she is laying her loot for others to collect. We did some tomato seed trading but I only had one variety that she was interested in OSU blue - I think she's seen it all.
Garden Blogger and Tomato Plant seller from I Wet My Plants
Another lovely lady dropped off some very well labelled alpine plant seeds to which I nearly shouted "score" as I picked up Allium karataviense. She was also my source of Kinnikinnick though this is a slow, finnicky plant so I'm not getting my hopes up BUT gardeners are nothing if not optimistic.
Beside them was aptly
Seeds of Diversity
, "a Canadian volunteer organization that conserves the biodiversity and traditional knowledge of food crops and garden plants." These gals were having a good time. Then I bumped into the gentleman at the
Canadian Organic Growers
, we'd had a chat at Eco Farm Day too so it seems that we're moving in the same circles. Also, there were
USC Seeds of Survival
, and
Just Foods
, to name a few.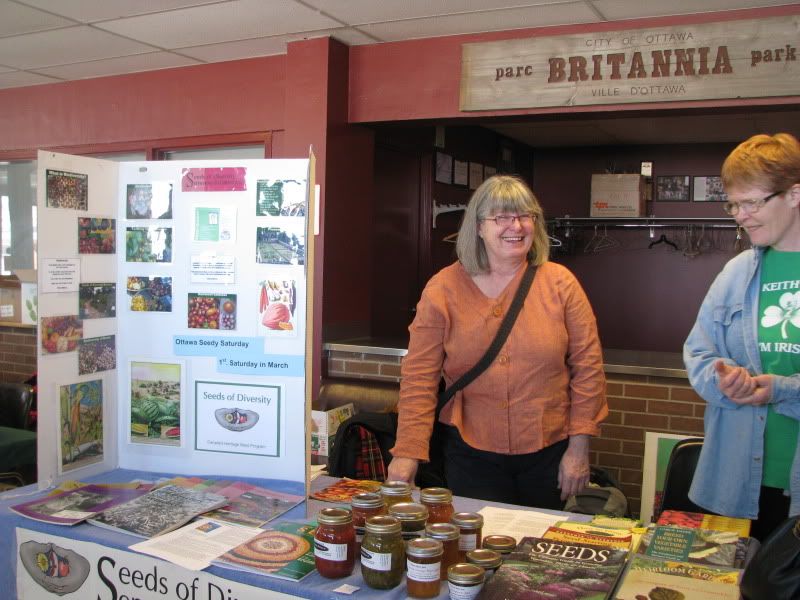 All smiles at the Seeds of Diversity booth.
After the tendors*, we get to the vendors where I bumped into Val, the head administrator of
Ottawa Plantcycle
, hanging out near the honey. She spoke to me about the possiblilty of more trading and giving opportunties in the form of a plant event in the spring. If you haven't been to this 'freecycle' for plants, it's a fun community.
Mmmm... yummy country style eats.
...some newer friends...
Among the books, food, other eco-products and of course seeds, I saw
Cottage Gardener
and hopefully took a slightly less stunned picture of her than a few years ago. There were no shortage of seed vendors including
Tourne-Sol
who was had some unusual seed/plant such as red broomcorn, chufa nuts and two kinds of Jeruselum Artichokes.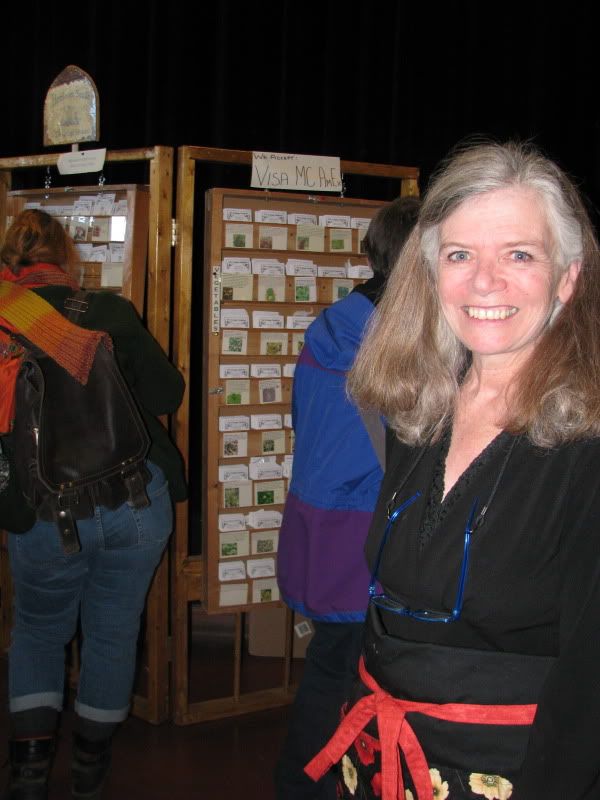 Cottage Gardener overlooking her busy stand.
After all this frenzied filing through seed packets, I decided to go outside for a bit more of that glorious Vitamen D when someone came up to me and asked, "Are you Hortiphilia? We've been on your new blog." I have to admit to being surprised so I asked how he had unmasked my identity to which he replied that I had been covering the event for a couple years now - true - and that he figured the snap happy picture taker must be yours truly. Was there really no press there or am I just that obvious? Anyhow, for recognizing me, let's recognize one of the many value added vendors
Honey Pie Hives and Herbals
- "Make Pie, not War."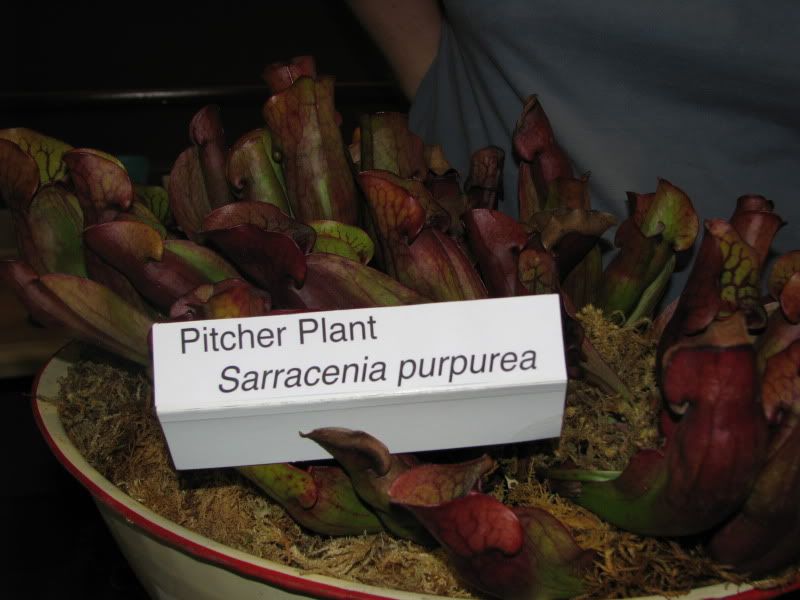 That has nothing to do with honey. You're right. It's some pitcher plants from Connaught Nursery: Ottawa Valley Native Plants & Wildlflowers.
...and some that were brand new
The crowd was crowdful and among them were many green thumbs not in my memory bank, including this representative from
Steward Bags
. Not only is she providing a useful product but she has given me the opportunity to mention what I consider the hypocrisy of grocery stores discouraging the plastic bag for their alternative, usually sold at the cash, the slightly longer lasting plastic bag. We have a bunch of old cloth conference bags picked up from years at second hand stores but they aren't so easy to find now.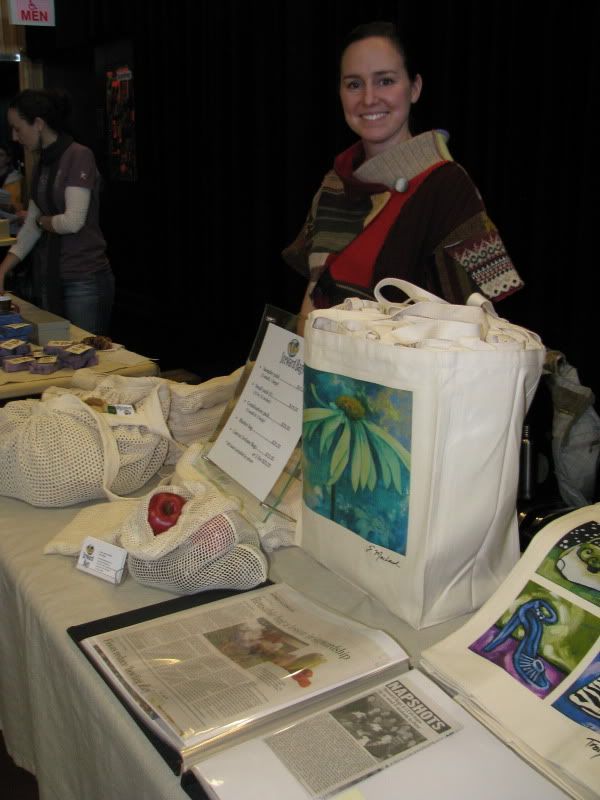 This year, my impression was that there were lots of talks, but less stuff for kids though I didn't have my darlings with me so I might have missed something. Most importantly, there were no shortage of seeds and the trade table was hopping.
Speaking of new - Perth joins the party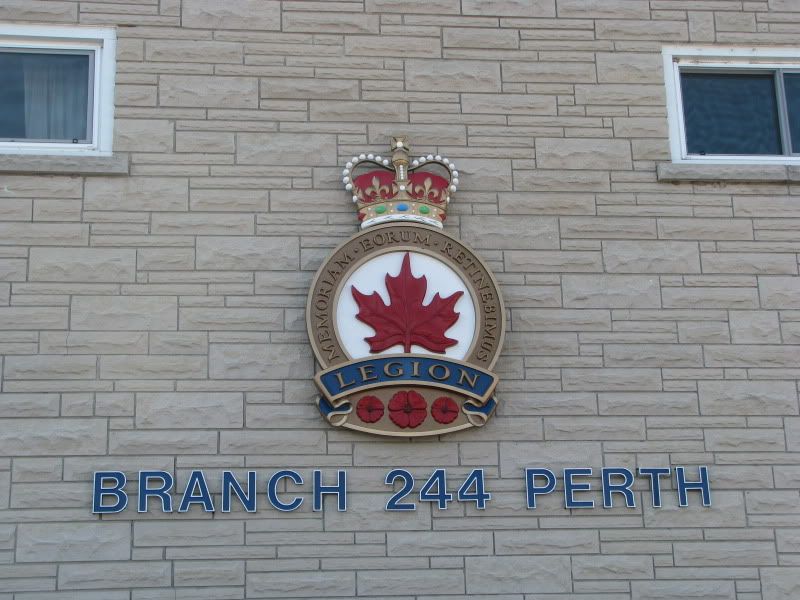 Event was held at the Perth Legion, which I understand is also the farmer's market.
On another undeniably beautiful day, I stopped by the first annual Perth Seedy Sunday. There was breathing room here but still a good turnout. The talks were given on the stage creating an interesting (unobtrusive) live performance. While I was there, the subject was seed starting.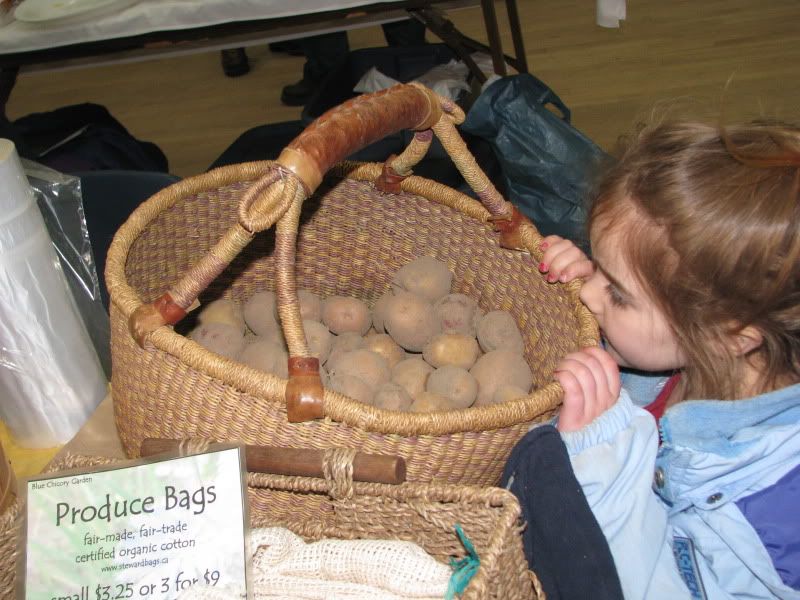 My daughter checks out some potatoes. There were also eggs and farm produced goodies.
Among the locals was a new seed company Mountain Grove Seed Co. She had a nice selection of vegetables, herbs and flowers. We had a chat about kids playing with seeds and even made a few seed exchanges! She doesn't yet have a website but if you live in the area, look her up.
Here is Dawn from Mountain Grove Seed Co. showing me her products, seeds and smile.
The last thing I saw was their trade table where I dropped off a few more packets of my minimalist labelled seed packets before picking up some citron and naked pumpkin seed.
And now I go home to stuff my seed tower with but more planting promise.
*Tendors: Unselling volunteers tending their stand
***
Seedy Saturday near your place