Alright. As I always seem a bit tardy to write up my Monday harvest, I think I'm going to start on Sunday so I can post bright and early in the morning.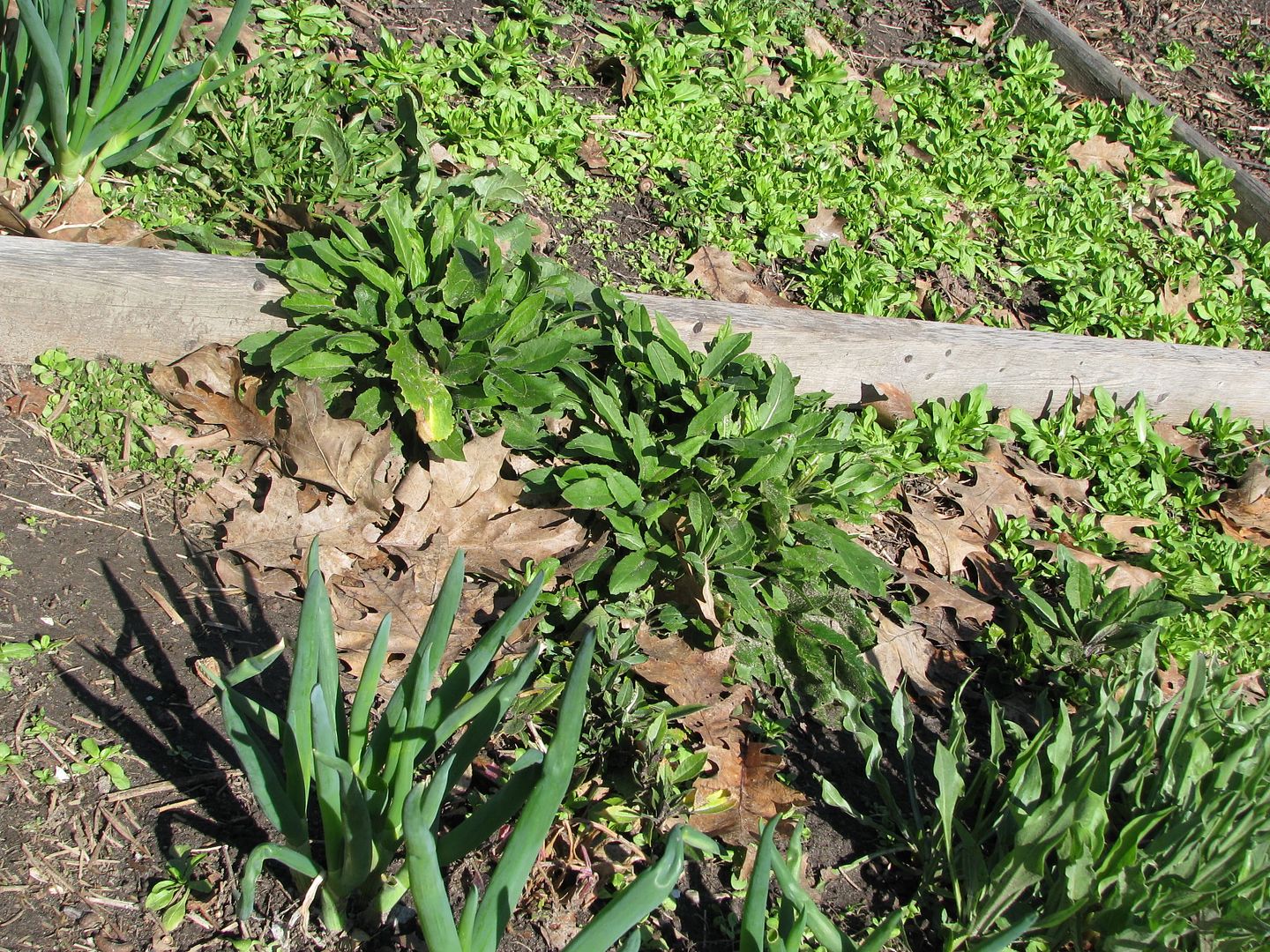 Sperling Top onion, top setting onion, lots of mache, chicory, violets, scorzonera (the elongated shoots are getting better but still a touch hairy) and some dame's rocket (technically edible* but I haven't put it on the menu yet).
As it is, I did eat a lovely salad from the garden on Sunday. Here is a picture of the patch that it came from. The best thing about this violet leaf, mache, sweet cicely, lovage, sorrel, and onion salad was that I did not sow any of it this year. Yes, the only 2010 work that went into making this salad was washing the sandy soil off. None of these things were even sown last year. The youngest of the alliums was put in the garden, I believe, in 2008. So this salad came from sowing prior to that! Cool eh?
Speaking of cold tolerant. This time of year, I sing the praises of Brassicaceae and Alliceae a little bit louder as they are among the first and last crops I harvest. As I've written a couple recent posts on our cole companions, I thought I'd make my next post on the alliums allies with an emphasis on the perennials. Stay tuned!
*The technically edible section:
Dame's rocket - Hesperis matronalis: I haven't really eaten these yet and am not sure how these plants got there.
Extreme Gardener
writes on devouring this invasive.
Violet - Viola odorata: I generally enjoy the leaves but the ones I tried yesterday were a bit tough. The flowers are a decorative edible.
Not Eating Out in New York
goes wild for violet leaves.