I missed
Harvest Monday
so I thought I would make it up to you by showing how my outdoor/indoor tomato start project was going. To be brief, this is a technique I use for frost tender seedlings. It is similar to
wintersown
though I originally thought of it as an alteration of coldframe techniques but enough quibbling over 'sources.'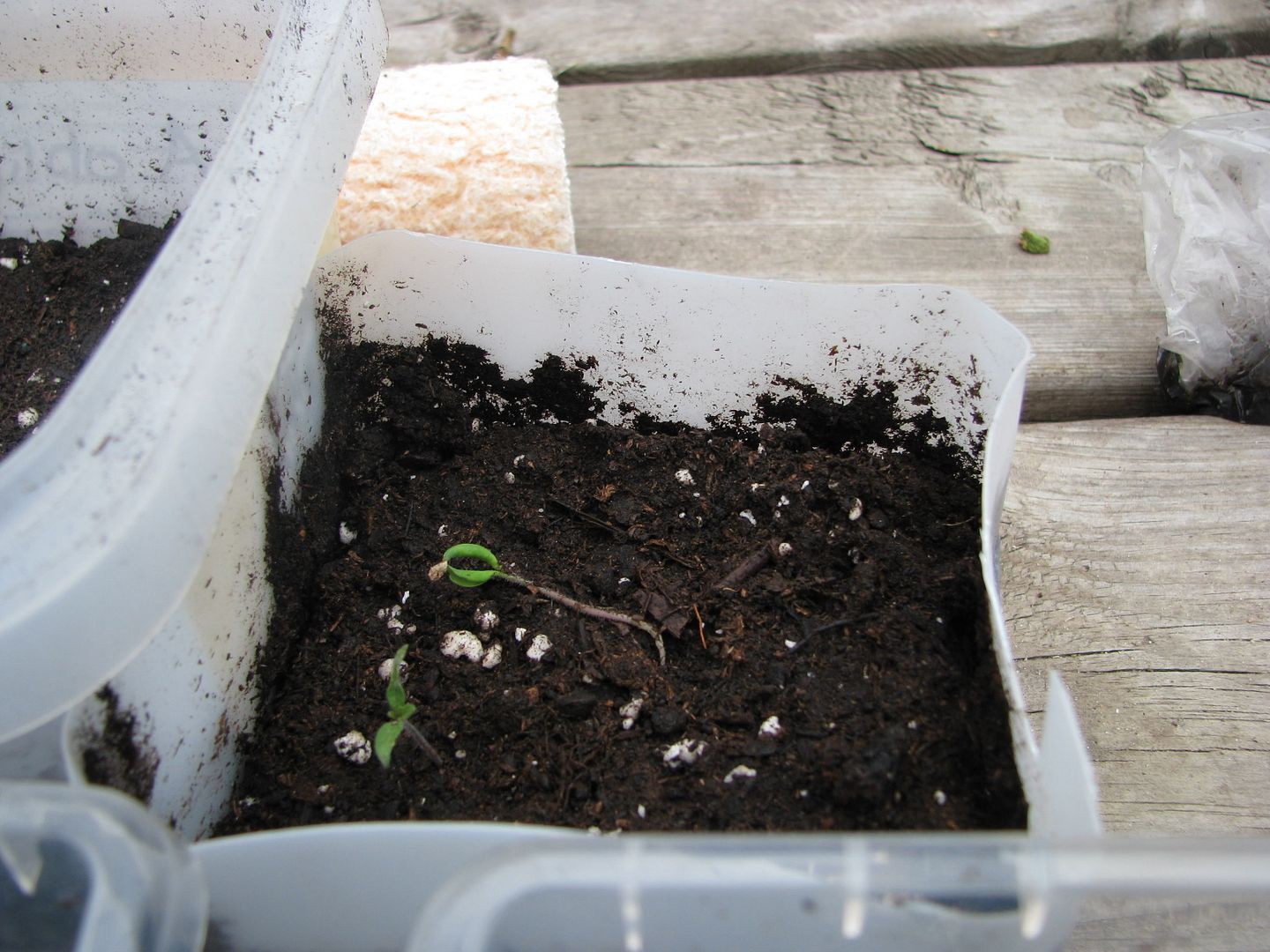 Bouncy baby tomato plants
I make a 'wintersown' container and plant in seeds like tomatoes or pumpkins or something that would not be thrilled by frost. Then instead of just leaving them outside, I put them out only on warm days (approximately above 4C) in their mini greenhouses. The cover comes off it is above 10C. At night, I bring them in. Post one, where I make the container -
Really Easy Seed Starting
. Normally the seeds germinate quickly in warm weather but this one was languishing so I did a germination test on the seeds I used and they FAILED (old package of old seed from an old organization - keyword folks). I presprouted another short season tomato variety and planted when I saw the first root. That was a couple days ago now so here we have plants. Normally I don't have to presprout anything that volunteers in the garden like tomatoes or pumpkins but you gotta do what you gotta do for those juicy globes of tomato goodness.
Speaking of warm weather. Who wants to make bets on no frost for April in Ottawa?
Spring is official: Watch out for the attack of the fuzzy, mud monster.
* I didn't think Tomato Tuesday was a real thing but I googled to be sure and you get lots of hits.
** There is so much going on in the garden that I might do an update post soon. Yeah, I know there were no other footnotes mentioned but I just thought I'd throw one in anyhow. Garlic is an appreciable size, alliums spears poke out everwhere. Crocus, winter aconite, recticulated iris, scilla and more are in bloom. I even so the red shining through the buds of early tulips. Seeds of kale, mustard and other greens have sprouted. With this weather, we should be lush and multicoloured in no time. The browns and greys of early spring are behind us now. Full speed into summer!